Germany, Italy Grow Less Than Forecast Amid Global Uncertainties
By
German GDP rose 0.4%, Italian GDP was up 0.2% in 4th quarter

Data Tuesday set to confirm euro-area economy expanded 0.5%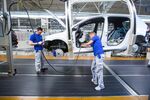 German and Italian growth fell short of forecasts, casting doubt on the strength of two of the euro area's biggest economies amid global uncertainties.
German gross domestic product rose a seasonally-adjusted 0.4 percent in the three months through December, while Italian GDP expanded 0.2 percent, according to the nations' statistics offices. Both figures missed predictions in Bloomberg surveys by 0.1 percentage point.

While Italy has lagged growth in the 19-nation euro area, Germany -- which had annual growth of 1.9 percent last year -- has driven Europe's slow but steady recovery, aided by a weak euro, cheap oil and the European Central Bank's stimulus policies. While those tailwinds boosted consumer spending and supported exports, rising inflation pressures and uncertain prospects for global trade have cast doubt over whether the pace of expansion can be maintained.
German fourth-quarter GDP was led by domestic demand, the statistics office said. Government spending increased markedly, and households raised consumption slightly. Investment also developed positively, bolstered by building. With imports outpacing exports, net trade was a drag on growth.
"The data are alright -- German growth is solid, and impulses came exactly from where we expected them to do," said Marco Wagner, an economist at Commerzbank AG in Frankfurt. "Growth drivers will be similar in 2017."
Uncertain Outlook
With unemployment at the lowest rate since reunification, exports at a record and business confidence near levels last seen at the beginning of 2014, the German economic outlook remains favorable. But risks are increasing. 
At home, faster inflation threatens to eat into consumers' pockets as wages continue to grow at a subdued pace. Salaries expanded only 1.8 percent in real terms in 2016.
Political campaigning ahead of national elections in September could deepen divisions over immigration and the euro, throwing into disarray a currency bloc that is already threatened by a surge in populism in France, the Netherlands and Italy.
Abroad, Donald Trump's administration is sowing seeds of uncertainty by threatening protectionist trade policies and raising the specter of a currency war, by accusing Germany of taking unfair advantage of the euro's exchange rate.
Collateral Damage
In a sign that words from Washington are already sapping confidence, a gauge of investor expectations will fall to 15 in February from 16.6, according to a separate survey. The ZEW institute will publish the data at 11 a.m. in Mannheim, Germany.
Trump's policies "are a risk, and not a small one," Commerzbank's Wagner said. "But at the moment they're too diffuse to be incorporated in projections."
In the Netherlands, GDP increased 0.5 percent from the third quarter. The Slovak economy grew 3.1 percent in the fourth quarter from a year earlier. Italy the currency bloc's third-largest economy, will report at 10 a.m., followed by data for the 19-nation region at 11 a.m. Economists predict a confirmation of the 0.5 percent Jan. 31 flash reading.
The European Commission said on Monday it projects euro-area GDP growth will slow to 1.6 percent this year from 1.7 percent in 2016, stressing that uncertainty surrounding the forecast was particularly large in the light of Brexit negotiations and Trump's presidency.
Such risks may also influence the ECB, whose unconventional policies have underpinned the recovery so far. ECB President Mario Draghi has upheld a pledge that stimulus can be increased in case the outlook worsens, even after officials agreed to reduce the pace of government-bond buying to 60 billion euros ($64 billion) from April.
"While the data within the monetary union is pointing to growth risks being more and more in equilibrium, uncertainty and the risk of political shocks outside continental Europe have clearly gone up," Executive Board member Yves Mersch said on Friday.