politics
Trump Joins Trudeau in Vowing Boost to Women in Workplace
By and
U.S. president criticized for lack of diversity on team

Promises action on access to capital, workplace policies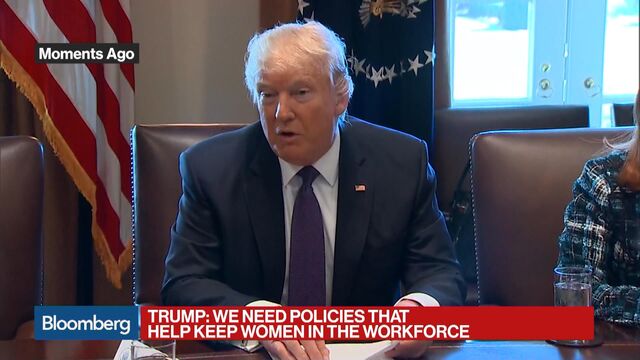 President Donald Trump and Canadian Prime Minister Justin Trudeau used their first meeting to promise action on improving access to capital for female business owners and to adopt policies to help women stay in the workforce.
"We must ensure our economy is a place where women can work and thrive," Trump said at the start of a meeting with female executives he co-hosted with Trudeau during the Canadian leader's visit to Washington Monday.
Trudeau lauded the "very powerful leverage" women's success in business provides to the U.S. and Canadian economies. 
The women gathered around Trump in the cabinet room Monday contrasted with the overwhelmingly male and white groups of business executives he has hosted in a series of White House meetings since he took office.
Participants in the meeting included Elyse Allan, president and chief executive officer of GE Canada; Dawn Farrell, president and CEO of TransAlta; Carol Stephenson, a board of directors member for General Motors Co.; and Linda Hasenfratz, CEO of Linamar; and Julie Sweet, CEO of Accenture North America, according to a White House official.
Canada's policies to help women stay and advance in the workplace are ahead of the U.S., where there is still no guaranteed paid leave for new parents. Trump, with the advocacy of his daughter Ivanka, has proposed guaranteeing six weeks of paid leave to birth mothers who don't already have a paid-leave benefit through their employers. The proposal, which hasn't yet been fully unveiled to Congress, leaves out mothers who adopt children, as well as fathers.
Canadian Benefits
In Canada, mothers who have completed at least six months of work with a company are eligible for a 17-week maternity leave after pregnancy. Following the maternity leave period, both parents can share the remaining 37 weeks of parental leave, with job security.
Trump, who won the presidency by defeating the first female candidate for the office nominated by a major political party, has been criticized for a lack of diversity in his administration.
Women are far more prominent in Trudeau's cabinet than in Trump's. Half of Trudeau's cabinet members are women, compared with just four of Trump's 23 choices so far for cabinet-level positions. Barack Obama had seven women in cabinet-level positions on his original team.
Other participants at the meeting included Monique Leroux, chair of the board of directors of Investissement Quebec; Tina Lee, CEO of T&T Supermarket Inc.; Tamara Lundgren, president and CEO of Schnitzer Steel Industries Inc.; Annette Verschuren, chair and CEO of NRStor Inc.
Ivanka's Advocacy
Trump was joined in the meeting by his daughter, Ivanka, who has worked as an executive at her father's real estate development company and has her own line of fashion items. She has publicly advocated for the administration to pursue policies to improve child-care options and to help women in the workplace.
She praised the executives at the meeting as "tremendous role models for me and other business leaders" as the country wrestles with "how we level the playing field for this generation and for the next."
— With assistance by Carol Hymowitz
(
Updates with Trudeau comment in third paragraph.
)
Before it's here, it's on the Bloomberg Terminal.
LEARN MORE