Trump, Brexit Dominate European Outlook 'Assailed by Risks'
By
Euro-area growth expected to slow to 1.6 percent in 2017

'Large uncertainties' cloud global economic outlook, Buti says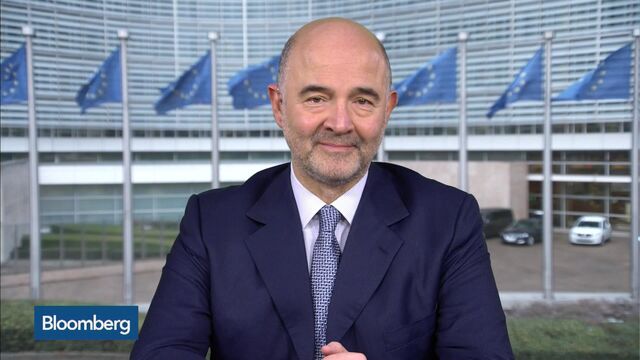 Brexit and the election of Donald Trump are heightening economic risks for the euro area, the European Commission said, as it warned of continued fallout from the two political events that dominated 2016.
In its first set of economic forecasts compiled since Trump's election victory and with the British government gearing up to officially trigger its EU exit, the Brussels-based commission said on Monday that the recovery is "assailed by risks." Gross domestic product in the 19-nation region will grow 1.6 percent this year, slower than the 1.7 percent expansion last year.

"The British vote in favor of leaving the European Union and a certain discontent on the part of some of our fellow citizens against globalization, this led to electoral choices, which will certainly have consequences for our economy," European Economics Commissioner Pierre Moscovici, told reporters in Brussels. "Clearly the U.S. represents the single most important source of uncertainty."
The EU is bracing for troubled times ahead with a new U.S. president that has taken a more protectionist trade stance and with the next two years set to be dominated by negotiations with the U.K. on its withdrawal from the bloc. Europe's governments are also struggling to shake off the effects of the debt crisis nearly seven years since Greece's first bailout, work out their response to an aggressive Vladimir Putin to its east and south, and come up with solutions to the flow of migrants from the war-ravaged Middle East.
Mixed Growth
"Large uncertainties characterize the economic outlook globally and in the euro area," Marco Buti, the head of the Commission's economic and financial affairs department, said in a statement.
The forecast of euro-area growth of 1.6 percent in 2017 is an upgrade on the 1.5 percent prediction the commission made in November. The commission also raised its forecast for 2018 to 1.8 percent from 1.7 percent.
The growth outlook for Germany, France, Italy and Spain -- the euro zone's four largest economies, -- is mixed. The commission upgraded its forecast only for Germany. Yet, with an increase in GDP of 1.6 percent, that's still less than the 1.9 percent growth rate it witnessed in 2016, the commission said.
France's economy will grow by 1.4 percent, an increase of 0.2 percentage points on 2016. Italy's 2017 rate of 0.9 percent is identical to that of last year. Spain will grow by 2.3 percent -- less than the 3.2 percent by which it expanded in 2016, according to Monday's forecast.
"The balance of risks remains on the downside although both upside and downside risks have increased," the commission said. While U.S. fiscal stimulus could have a stronger short-term impact than currently expected, the commission sees medium-term threats from Brexit, potential disruptions to trade, spillover on emerging markets from Federal Reserve tightening and rising debt in China.
Inflation Expectations
The euro-area inflation rate will average 1.7 percent in 2017, 0.3 points higher than in its last forecast in November, but still below the European Central Bank's goal of just below 2 percent, the commission said. Stripping out volatile energy and food prices, inflation will "rise only gradually," the commission said, echoing remarks made last week by ECB President Mario Draghi.
The ECB's current stimulus settings reflect a recovering economy that isn't yet strong enough to stand on its own, Draghi said. Even as the inflation rate quickens, the ECB also stated that current gains are largely driven by energy prices and therefore don't warrant a discussion about tightening monetary policy yet. The ECB will trim its bond-buying program to 60 billion euros ($64 billion) per month in April from 80 billion euros a month currently, and it intends at this stage to let it run at that pace until the end of the year.
"The impact of positive base effects in energy inflation is set to fade," the commission said. "The slight increase in wages expected this year and next, as well as the narrowing and closure of the output gap, should begin supporting a moderate and gradual pick up in underlying price pressures."

The commission revised up its estimate for U.K. economic expansion to 1.5 percent in 2017 from a 1 percent prediction in November. It left its forecast for 2018 unchanged at 1.2 percent.
The European Commission said Spain will miss its deficit reduction goal yet again, calling into question the package of fiscal measures enacted by Prime Minister Mariano Rajoy as the Spanish economy looks set to slow while and inflation ticks up.
Spain's budgetary shortfall is set to come in at 3.5 percent of gross domestic product this year, compared with a target of 3.1 percent.
— With assistance by Lorenzo Totaro, Brian Swint, and Maria Tadeo
Before it's here, it's on the Bloomberg Terminal.
LEARN MORE