Treasury Leadership Vacuum Leaves U.S. Open to Policy Mix-Ups
By
Democrats delaying Mnuchin vote leaves longest leadership gap

Trump will need to appoint another 20 to critical posts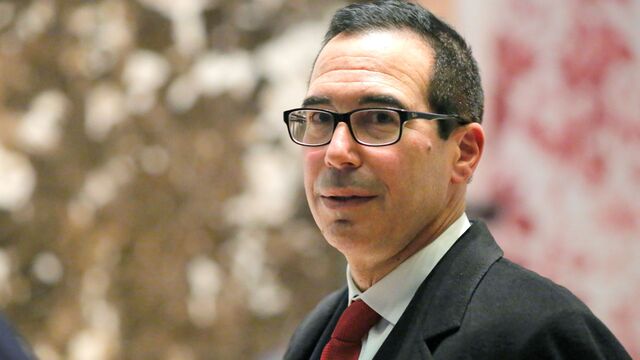 A leadership vacuum at the Treasury Department is beginning to weigh on key areas of American economic policy, such as currency, sanctions and budget issues. 
Three weeks after President Donald Trump took office, the Senate is still debating his pick for Treasury secretary, Steven Mnuchin, leaving what lawmakers say has been the longest gap between administrations at the department, though Mnuchin is considered likely to be confirmed in a vote set for Monday at 7 p.m. in Washington. Once that wait is over, the Senate vetting process will begin afresh for about 20 appointees to other top Treasury posts, from debt management to international affairs.

For two of those key roles -- under secretary for terrorism and financial intelligence, and assistant secretary of tax policy -- four people have turned down job offers or withdrawn from consideration, according to four people familiar with administration hiring efforts. 
The Treasury Department's leadership gap has left a holdover from former President Barack Obama's administration in charge of the agency and exposed some recent policy moves by the new administration to misinterpretation. The Russian ruble, for example, rose briefly on Feb. 2 on uncertainty whether amendments on sanctions to permit some technology licensing signified a broader easing of restrictions. The White House later clarified it was a routine tweak -- not a policy shift -- hours after the Treasury announcement.
Some of the policy making gap is being filled by Gary Cohn, the former Goldman Sachs president, who is crafting Trump's plan to overhaul taxes and regulation as the head of the president's National Economic Council.
Read More About Challenges Facing Treasury's New Leadership
Emergency Steps
Part of the delay in installing Mnuchin at the Treasury has come from the bitter fight in the Senate, with Democrats delaying votes on nominees and spending up to 30 hours debating over cabinet picks that their minority status provides no power to block. Democrats twice boycotted a Finance Committee vote on Mnuchin's nomination before Republicans took emergency steps to advance consideration.
Since taking office, Trump has spoken about economic issues in broad strokes. The president and his advisers have opined on some of the world's largest currencies, moving the euro, the Canadian dollar and the Mexican peso. The administration has also jawboned the dollar, remarked on the recent weakness in the Canadian loonie and singled out China and Japan for playing currency markets.
With no apparent unified currency policy and no finance chief for counterparts to call on, as is traditional, foreign leaders are left waiting for the next Treasury secretary and his deputies to be installed for clarity over what policies Trump will actually advance as president, after he called for trade protection during his election campaign.
A power vacuum at the agency could also impact the $14 trillion Treasuries market. The department earlier this month released quarterly government refunding plans where the bond market finds clues for how the administration will finance its plan to boost spending in infrastructure while cutting taxes. That announcement on Feb. 1 was void of the new administration's fingerprints, with career officials running the show.
One of Mnuchin's first jobs will be to start planning how to address the debt ceiling by March 16 to avoid a default on U.S. government obligations. While he can lay some ground work now, the support of a fully-operational domestic finance office will be out of reach until he is confirmed and has that under secretary in place.
— With assistance by Andrew Mayeda
Before it's here, it's on the Bloomberg Terminal.
LEARN MORE