Italy Intrigue May Halt Renzi's Comeback Bid
By
Ex-premier's Democratic Party divided over elections by summer

Renzi may also face challenges to his party leadership Monday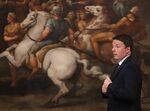 Matteo Renzi's chances of recapturing the Italian prime minister's office this year may be slipping away.
His push for early elections has triggered so much dissent within his own party that he may have to wait until next year for a comeback attempt.
The ex-premier's Democratic Party, the biggest force in parliament, holds a meeting of its leaders in Rome on Monday. They'll decide whether to seek national elections this year, or wait until a vote scheduled for early 2018.
Should Renzi prevail on Monday, there is the prospect of yet another European election alongside Germany, France and the Netherlands this year. The anti-establishment Five Star Movement, which wants a referendum on Italy's membership of the euro area, is keen to exploit its standing in opinion polls that show it neck and neck with the Democratic Party.
The uncertainty helped widen the yield spread between Italy's 10-year bonds and their German equivalent last week to the most since February 2014 amid the political turmoil that thrust Renzi into the premier's post. Markets have also been worried about French presidential candidate Marine Le Pen's proposal to leave the euro area, a move that would rattle France's neighbor to the south.
Stormy Talks
Stormy talks are likely on Monday. A dissident minority and influential factions oppose Renzi's drive for a new electoral law and a vote by mid-June. They say the government of Prime Minister Paolo Gentiloni, 62, a soft-spoken former diplomat and fellow party member, should stay in power until the next scheduled elections.
If Renzi fails to win approval for early elections, he may step down to force a nationwide party congress, confident that he would win re-election as party leader.
'Big Gamble'
"Renzi is taking a big gamble here with the unity of his party," Marc Ostwald, a strategist at ADM Investor Services International Ltd. In London, said in a telephone interview. "I think the markets would prefer to see Gentiloni last to the end of parliament's term, i.e. early 2018. People don't welcome an Italian election on top of the other ones."
Enrico Rossi, the governor of Tuscany and a possible challenger for the party leadership, urged Renzi to resign to clear the way for the congress, in an interview with Corriere della Sera.
Renzi charged into the premier's office three years ago, promising a shakeup of the country's political system and new vigor for its economy. He quit last December, after a constitutional reform referendum backfired.
While Renzi, now 42, oversaw the country's gradual economic expansion, Italy has long been struggling with its banks, laden with soured loans. Although the economy expanded 0.3 percent in the three months through September, unemployment was at an 18-month high when he retreated to his native Tuscany.
It is up to Italian President Sergio Mattarella, 75, whether to call early elections. He has called for differences between the electoral systems for the two houses of parliament to be ironed out before new elections.
Potential Challenger
"Renzi may well lose his bid for an early vote, but he'll remain leader, he's much more popular than any potential challenger," said Roberto D'Alimonte, a political science professor at Rome's Luiss University. "But Italy is in limbo and it will remain in limbo until the next election because parties including the Democratic Party are in disarray and people are focusing on electoral reform."
A few days before the leadership meeting, 41 Democratic Party senators signed a document saying they would give their full support to Gentiloni's government and calling for the party to be "put back on its feet."
"I'm for a vote in 2018, so that the government can govern until then," Pier Luigi Bersani, head of a dissident faction and a former Democratic Party leader, told reporters before Monday's meeting. Otherwise, he said, "voters don't understand and we're headed for trouble."
Italy's Constitutional Court has also weighed in, saying Thursday the country's current election law fails to guarantee stability and needs an overhaul.
No possible coalition would have a majority in the lower house of parliament under today's system, according to an Ipsos poll in newspaper Corriere della Sera on Friday. The survey gave Five Star 31 percent of the vote, against 29.7 percent for the Democratic Party.
— With assistance by Giovanni Salzano
Before it's here, it's on the Bloomberg Terminal.
LEARN MORE