Calpers Gave Up $900 Million Since Lowering Allocation
By
Pension system started to reduce equity exposure in September

Board expects 5.8% annual returns until new allocation chosen
It has cost the California Public Employees' Retirement System about $900 million since September to reduce its exposure to stocks and private equities as the largest U.S. pension fund sought to reduce risk in its portfolio.
"To date we have actually experienced, and this is more by coincidence than by anything else, about a 30 basis point reduction in return to date based on the interim asset allocation," Ted Eliopoulos, chief investment officer for the $309.7 billion system, said Monday in Sacramento.
This "translates into approximately a $900 million lower return for the few months we have taken so far. Of course, we like to look at much longer time periods for them to be meaningful," he said at a meeting of the Calpers investment committee.
The board agreed last year to temporarily reduce its allocation to stocks and private equity while stepping up allocations for inflation-protected securities and fixed-income holdings. Calpers currently expects 5.8 percent annual returns until it finishes an allocation revision process, which is scheduled for completion by July 2018, spokeswoman Megan White said last week. Under the future allocation after July of next year, the targeted annual return will be 6.2 percent, White said.
The board also voted in December to ratchet down its long-term target return rate to 7 percent from the previous 7.5 percent amid projections for low interest rates, low inflation and the need to reduce risk. The California State Teachers' Retirement System, the second-largest U.S. pension, followed Feb. 1, by cutting its long-term target return to 7 percent from 7.5 percent.
Watch Next: Calpers' Eliopoulos: Lower 7% Target Is `Reasonable' Move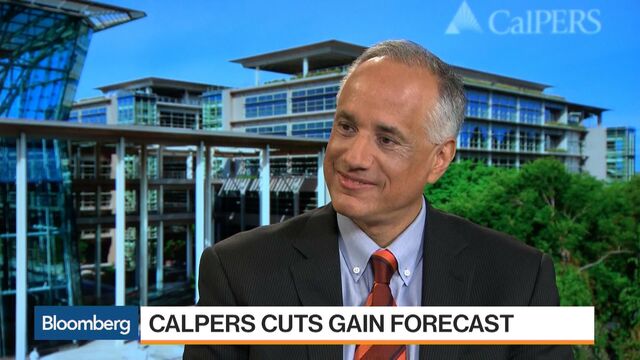 With a 7 percent return target, Calpers' funding dropped to 63 percent of its estimated long-term obligations, Eliopoulos said Monday. Reducing the portfolio's equities exposure aims to avoid the possibility of the status falling further if there's a market downturn, he said.
"That is our primary concern and our primary portfolio priority right now, to try and lower the risk of falling to a lower funded status," he said.
(
Updates with CIO comments on funded status in last two paragraphs. An earlier version of this story corrected the basis points mentioned in the second paragraph.
)
Before it's here, it's on the Bloomberg Terminal.
LEARN MORE