California Dam Crisis Leaves Power Market Short of Big Hydro
By and
Gas-fired generation needed to fill gap after Oroville shut

State's electrical grid has not been affected, spokesman said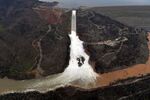 A crippled spillway is threatening to submerge an entire region of northern California after a recent deluge of rain. And the state's power market may already be feeling it.
As state officials rush to repair an emergency spillway for the Oroville dam -- just 150 miles (241 kilometers) north of San Francisco -- an 819-megawatt hydropower plant, capable of supplying about 600,000 homes with electricity, remains shut there until authorities judge it is safe to come back online. That's the equivalent of two natural gas-fired power plants that will need to kick into gear elsewhere in California to make up for the lost supplies, according to Bloomberg New Energy Finance.

Almost 200,000 people have been forced to evacuate as the damaged spillway threatens to flood an area that's also home to about a dozen power plants, based on data compiled by Bloomberg New Energy Finance. The boost in gas demand resulting from their shutdown would come just as California's supplies of the power-plant fuel are constrained. The Aliso Canyon gas storage field outside of Los Angeles has been closed since a massive leak in late 2015, and operators are still waiting for permission from the state to restart.
"Gas generation probably needs to pick up the slack from what you lose at the Oroville Dam," said Het Shah, an energy analyst at BNEF. "You need two gas facilities to fill in that gap."

On Monday, wholesale gas at the PG&E City Gate hub in Northern California was at a five-year high for the date, trading at a premium of 39 cents above the U.S. benchmark Henry Hub, data compiled by Bloomberg show.
Three 230-kilovolt power lines in the area had been de-energized as of late Monday, said Steven Greenlee, a spokesman at California ISO, which oversees the region's power grid. No other problems have occurred on the grid in relation to the dam, Greenlee said.
"Just like with any transmission outage, we re-optimized the grid and found alternative routes," he said.
The Oroville plant closure comes at a time of low seasonal demand for natural gas in California. Temperatures in the state have climbed after a cold spell earlier in the winter, reducing use of the heating fuel.

The threat of flooding at Oroville may remain throughout the week. Governor Jerry Brown declared a state of emergency on Sunday to mobilize resources and support evacuations. And over the next week, the state is expected to get an additional 11 inches (28 centimeters) or more of rain, according to the U.S. Weather Prediction Center.
The incoming storm, which will strike the Pacific Northwest first on Tuesday, will shift south Wednesday, said Bob Oravec, a senior branch forecaster at the Weather Prediction Center in College Park, Maryland. This is bound to put more stress on the Oroville reservoir and dam, he said.
"There will a lot of additional rain getting to that reservoir," Oravec said. "It is not going to bode well. There is going to be a lot of run off."
Before it's here, it's on the Bloomberg Terminal.
LEARN MORE