Blasphemy Trial Mars Jakarta Race With Risk for Jokowi
By
Would be first ethnic Chinese Christian to be elected governor

Candidates vow to end slum evictions, spend more on poor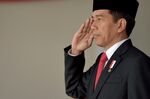 Voters in Indonesia's capital pick a new governor on Wednesday in an election marred by religious tensions that could impact Jakarta's economy and the fortunes of President Joko Widodo.
The winner will control an annual budget of $5.2 billion, about 0.5 percent of the economy, and decide the future of major infrastructure projects begun by Widodo when he ran Jakarta. Widodo, better known as Jokowi, has strong links to incumbent governor Basuki Tjahaja Purnama, an ethnic Chinese Christian who succeeded him in 2014.
A possible preview of the 2019 presidential poll, the contest pits incumbent Purnama, also known as Ahok, against Agus Harimurti Yudhoyono, the son of former president Susilo Bambang Yudhoyono, and former education minister Anies Baswedan, a protege of Suharto-era general Prabowo Subianto.
Since taking the post, Ahok has continued Jokowi's clamp down on graft and his efforts to cut red tape and bureaucracy. He's been popular with residents for his efforts to limit the flooding that often paralyzes large parts of the city and sets off its famous gridlock.
If Ahok loses, "all the reforms from the past five years, from Jokowi in 2012 until now, would be reviewed again," said Achmad Sukarsono, an Indonesia analyst with Eurasia Group in London. The risk, Sukarsono said, is Jakarta's governance reverts to the pre-Jokowi era and is seen by locals as ineffective and potentially even corrupt.
Blasphemy Trial
Recent polls show Ahok leading, despite being on trial for blasphemy for allegedly insulting Islam. Some radical Muslim leaders, including from the Islamic Defenders Front, or FPI, have targeted his religious affiliation and organized mass rallies against his candidacy. In January, Baswedan was criticized for trying to exploit the blasphemy issue after he gave a speech to the FPI.
A run-off election will be held on April 19 if no candidate polls above 50 percent of the vote. Such a run-off may not be the final resolution, either. If Ahok wins but is subsequently found guilty of blasphemy, local law dictates that he would be immediately dismissed as governor.
Given the religious taint to the election, and it being a potential proving ground for the next national vote, the Jakarta ballot is seen as a test of tolerance in what is the world's most-populous Muslim nation, where Islam is a prevalent but often low-key presence.
Jokowi himself came in for criticism during his presidential campaign as some of his opponents said he was not Islamic enough. Still, some of the largest Muslim groups in the country have said Ahok should not be judged too harshly.
"A win for Ahok would certainly re-affirm that the conservative brand of Islam pushed by FPI and their ilk does not have majority support in Indonesia," said Dave McRae, senior research fellow at the University of Melbourne's Asia Institute. "That said, the magnitude of the movement that coalesced around the blasphemy issue does paint a grim picture of the salience of race and religion as political tools in future Indonesian elections."
Steady Progress
A Jakarta outsider who grew up on the Bangka-Belitung Islands where he served as regent from August 2005 to December 2006, Ahok, 50, rose to prominence as Jokowi's running mate in the 2012 governor election.
Backed by the Indonesian Democratic Party of Struggle, the same party that supported Jokowi's presidential bid, Ahok has styled himself as willing to stand up to the Jakarta elite and tackle the city's torpid bureaucracy.
Steady progress on high-profile infrastructure projects including an underground rail system, an above-ground light rail and elevated bus lanes helped Jakarta's economy expand by 5.85 percent last year, down slightly from 5.89 percent in 2015.
'Improved Services'
There is also evidence that efforts to reduce income inequality in the capital have made an impact, with data showing the so-called Gini coefficient falling to 0.397 in September from 0.421 the previous year. The closer the figure is to one, the greater the inequality.
"The bureaucratic reforms under Ahok have resulted in improved services for citizens of Jakarta, and also improved relations with investors because investors can better understand what they can expect from the Jakarta government," Sukarsono said. "The budgeting has been so much better. There's more transparency."
But Ahok's decision to evict thousands of slum residents and bulldoze their homes to expand the flood-prone city's spillways, and furnish densely populated urban areas with green space, has opened the door to his opponents.
Ending Evictions
Baswedan has promised to end evictions, while Yudhoyono said if relocations were necessary under his administration, then they would be done "humanely" and with more engagement with residents.
The former education minister has also promised more digital economy jobs, while Yudhoyono has proposed giving poor families annual cash handouts of 5 million rupiah and grants of up to 50 million rupiah to help them start businesses.
While Jokowi has avoided weighing much into the controversy over Ahok's comments on Islam, the election is widely seen as a test of the president's own reform agenda. If the infrastructure projects for Jakarta fail, that could affect Jokowi's own voter base in 2019.
"Whatever money Jokowi is trying to raise for infrastructure or for other things will be impeded," said Tobias Basuki, a researcher at the Center for Strategic and International Studies in Jakarta. "The president is now making moves in a way to ameliorate the situation because he knows he will be next."
(
Corrects deck headline to say Ahok would be first ethnic Chinese Christian elected governor.
)
Before it's here, it's on the Bloomberg Terminal.
LEARN MORE