markets
Tensions Rise at Top Copper Mine as Strikers Enter Mine Site
By
Company says contract workers were forced to leave Chile mine

Main Escondida union says some members marched peacefully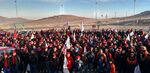 BHP Billiton Ltd., owner of the world's top copper mine, said it will take legal action after a group of about 300 people entered the Escondida mine during a strike and forced some contractors to abandon the site.
People with their faces covered entered the mine site at 6 p.m. Santiago time on Saturday, threatening the staff of contract companies and setting off fire alarms, causing damage, the Melbourne-based company said in an e-mailed statement Sunday. A smaller group cut power to security cameras, it said.
The union, whose 2,500 members stopped work on Thursday after wage talks broke down, has set up a makeshift camp just outside the mine. Union President Patricio Tapia said while a group of members did enter the mine site, they marched peacefully around the contractor workers' camp and left. They didn't trigger alarms or break anything, Tapia said by phone Sunday.
The incident is the latest in a tense first five days of a strike that helped propel the price of copper to its biggest gain in almost four years on Friday, after Escondida declared force majeure on its shipments and a fire broke out in another dormitory area for contractors. The union denied any involvement.
Prices added 0.5 percent to $6,122 ton in London at 6:51 a.m. on Monday, the highest since May 2015.
Escondida accuses the union of sending fewer workers than authorized for a skeleton crew during the strike, thereby jeopardizing mine safety, as well as blocking access to contract companies. The union says it's adhering to labor rules governing the skeleton crew and is blocking roads to prevent thieves and strike breakers from entering the site.
"We categorically reject these acts that not only infringe company values but also the law, and put at risk the safety of our people," Escondida Corporate Affairs Vice President Patricio Vilaplana said in the statement. "As a result, the company will use all necessary resources and take the pertinent legal actions to guarantee the safety of all workers."
(
Updates with strike entering fourth day, prices in fifth.
)
Before it's here, it's on the Bloomberg Terminal.
LEARN MORE