Bank of France Warns Voters on Cost of Euro Exit, Rising Spread
By
French-German bond spread is at highest level since 2012

Villeroy de Galhau sees higher borrowing costs outside euro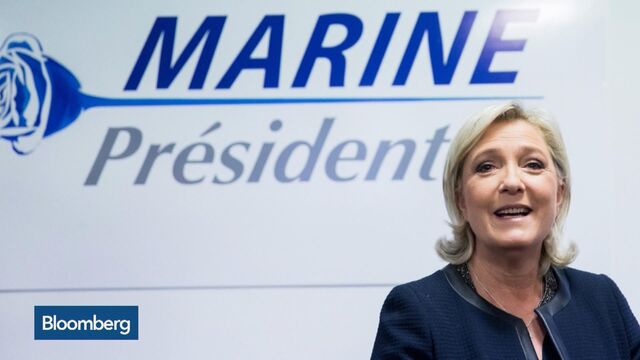 Bank of France Governor Francois Villeroy de Galhau cautioned French voters about the costs of withdrawing from the euro, noting that local interest rates are already rising on concerns about this year's presidential election.
National Front leader Marine Le Pen, who wants to take France out of the single European currency, is on track to place first in the initial round of voting in France's 2017 election, though she is unlikely to win the run-off and attain office, polls show. Even so, with the National Front closer than ever to power, the premium the French government pays to borrow over Germany has increased to its highest level in more than four years.
"The recent increase in French rates -- which I believe is temporary -- corresponds to a certain worry about the exit from the euro," Villeroy de Galhau said Monday on France Inter radio.
Le Pen has the support of about 26 percent of the electorate for the first round of voting in April, compared with 20.5 percent for independent Emmanuel Macron and 17.5 percent for Republican Francois Fillon, according to the latest Ifop daily rolling poll. Both Macron and Fillon would defeat Le Pen in the second round vote, all polls show.
The National Front candidate has been hammering home her message on euro exit. Speaking Sunday she said that the single currency was a political instrument that limits French sovereignty.
"I can't implement my promises of intelligent protectionism and industrial policy with the single currency," Le Pen said. "It's a brake on the economy, it's an obstacle to the recovery. The euro isn't a currency, it's a political tool."
Villeroy, by contrast, estimates that leaving the euro would increase the cost of debt service for the French government by about 30 billion euros ($32 billion) a year.
"That might seem a bit abstract to listeners, but 30 billion euros, to be very concrete, is equivalent to France's annual defense budget," he said.
France would also have a harder time defending itself on the global economic stage, he added.
The euro "is an arm in global competition in the uncertain world we live in," he said. "If we were alone, we would be unequipped to face financial market speculation."
Before it's here, it's on the Bloomberg Terminal.
LEARN MORE