Wilders Warns About Excluding Dutch Freedom Party After Vote
By
Would be 'unwise' to ignore strong showing by his supporters

Freedom Party leads in polls ahead of March 15 election
Geert Wilders said in a televised interview that a strong showing by his Dutch Freedom Party in the March elections means politicians in the Netherlands won't be able to ignore him.
"If the voter makes the PVV really big, and I'm not talking about two or three extra seats, but really big, then they will have to" work with him, he said, using the party's Dutch acronym, in an interview Sunday on WNL. "You cannot put 2 to 2.5 million people aside. That would be very unwise."
Wilders's party is leading in the polls five weeks before the general election. According to latest survey by Peil.nl, the Freedom Party would be the largest in the lower house of parliament with 30 of 150 seats. Established parties including the Liberals, Christian Democrats, Labor and the Greens have said they wouldn't be in a coalition government with Wilders.
Dutch Prime Minister Mark Rutte, whose Liberals are No. 2 in the polls, responded Sunday to Wilders via Twitter, saying "zero percent, Geert. ZERO percent. It. Will. Not. Happen.''
Wilders split from Rutte's Liberals in 2004 to form his own party on an anti-Islam and anti-EU platform.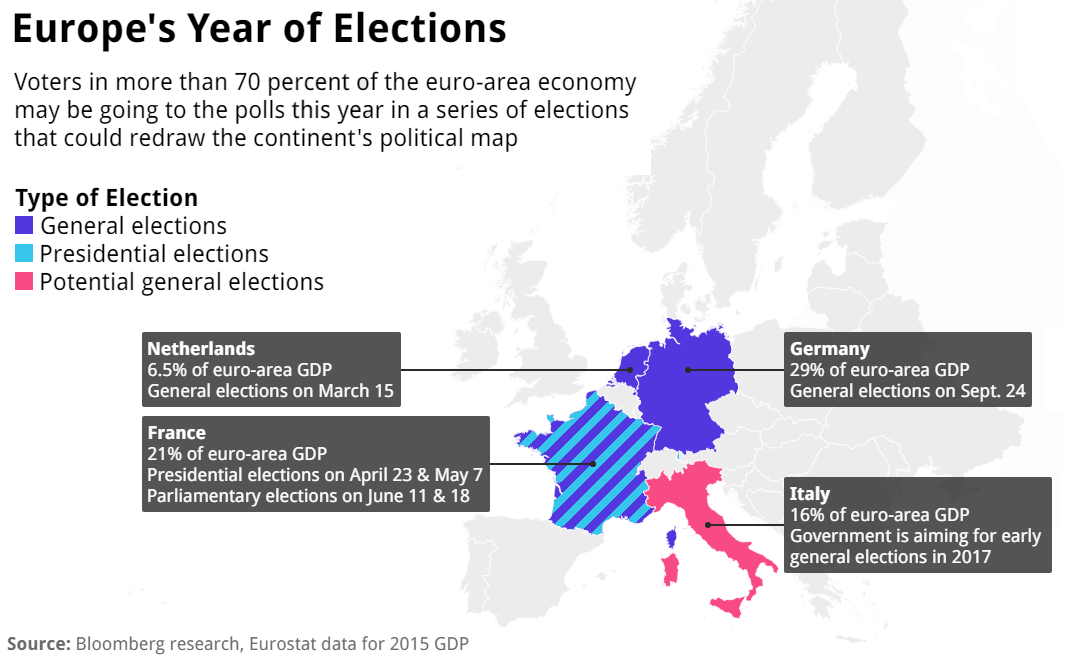 The Freedom Party wants to close down mosques and Islamic schools. Checks at the 400 Dutch border junctions will be restored to thoroughly control who enters the Netherlands, Wilders said.
He said leaving the European Union wouldn't harm the Dutch economy. "Look at the U.K." he said. "They are in a much better position than ever after Brexit. We want the key to our front door back.''
(Updates with additional Wilders comment in 6th, 7th paragraphs)
— With assistance by Corina Ruhe
Before it's here, it's on the Bloomberg Terminal.
LEARN MORE