Surging Egypt Inflation May Soon Peak, Finance Minister Says
Yousef Gamal El-Din and Ahmed Feteha
Annual urban consumer prices soared to 28% in January

Inflation accelerated after central bank floated the currency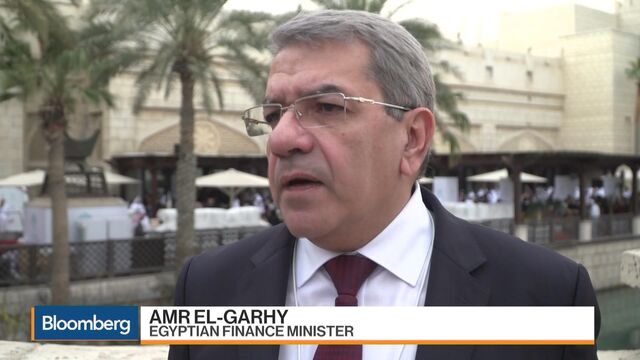 Egyptian Finance Minister Amr El-Garhy said he expects surging inflation to peak by the end of the first quarter as the price shocks following an increase in fuel prices and the pound's flotation fade.
El-Garhy said policy makers expected prices to jump after currency controls were abandoned in November to help Egypt clinch a $12 billion International Monetary Fund loan. He spoke after data showed annual consumer price rises soared to 28 percent in January.

"It is all resulting from supply shocks rather than demand-driven kind of inflation," he said in an interview with Bloomberg Television in Dubai on Sunday. "We knew that this is still peaking when it comes to inflation, we expect this to happen."
Watch more: El-Garhy talks inflation, growth and investments
The central bank removed all exchange-rate restrictions and raised interest rates by 300 basis points on Nov. 3. The pound has since lost about 50 percent of its value and was trading around 17.5 per dollar at 9:08 a.m. on Monday, according to data compiled by Bloomberg. In the meantime, prices of the nearly $60 billion worth of fuel, raw materials and finished goods that Egypt imports annually have been mounting.

The IMF said last month that prices rose at a "slightly" faster pace than it initially foresaw, but it expected annual inflation to ease to 16.6 percent when the current fiscal year ends on June 30. In November, El-Garhy put that figure at about 10 percent.
As inflation drops, interest rates will "come down to permit credit recovery," IMF staff said in the report presented to the lender's board before it approved the loan in November.
Until that happens, high yields on government securities are attracting foreign investors. Foreign holdings of Treasury bills grew to more than $1 billion at the end of January from about $100 million in October. Foreign inflows into domestic stocks have also surged on the lower dollar-based valuations.
El-Garhy called the strong demand for local equities and debt an "encouraging sign, and a strong vote of confidence in the economic reform program."
— With assistance by Hussein Slim, and Desley Humphrey
Before it's here, it's on the Bloomberg Terminal.
LEARN MORE