Romanians Demand Government's Exit in Renewed Mass Protests
By
Tens of thousands took to streets across the country on Sunday

EU also warns budget gap is set to swell beyond bloc's limit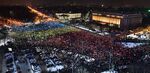 Tens of thousands of Romanians took to the streets of major cities once again, signalling the embattled government may have to do more to end the biggest demonstrations since the fall of communism.
More than 70,000 people rallied around Romania on Sunday urging the cabinet to step down, with about 50,000 gathering in Bucharest, local media reported. Protests stretched into a 13th day despite Prime Minister Sorin Grindeanu reversing controversial legal plans and Justice Minister Florin Iordache resigning. Turnout peaked at 600,000 the previous week.
A little over a month since returning to power, Romania's Social Democrats face the largest backlash since the 1989 uprising that ousted dictator Nicolae Ceausescu. The fury erupted after the passage of measures to ease punishment for corrupt officials and release others from prison. The demonstrators back a four-year anti-graft drive that's ensnared top officials in the European Union and NATO member nation, including an ex-Social Democrat premier.
QuickTake What You Need to Know About Romania's Protests
"People saw some gains in the anti-corruption fight, when the Social Democrats weren't in power, and they now fear that things will go back to where they were," said Michael Taylor, who covers central Europe and the Balkans for U.K.-based Oxford Analytica. "The party's strategy is to wait for the protests to lose momentum."
Grindeanu, whose government survived a no-confidence motion Tuesday in parliament, has pledged greater transparency from his cabinet, while re-affirming his intention not to resign. President Klaus Iohannis has slammed the ruling coalition for the crisis and plans to organize a referendum on overhauling criminal legislation. After plummeting initially, the leu has recovered as the cabinet softened its stance.
Romania's economy was in focus Monday as the European Commission predicted it would outpace the rest of the EU this year, driven by looser fiscal policy that will also push the budget shortfall beyond the bloc's limits. While gross domestic product will surge 4.4 percent, the deficit will reach 3.6 percent of GDP, it said.
The government says it will keep the gap within the EU's 3 percent threshold, though its figures are based on an economic-growth outlook that's rosier than other forecasters. Iohannis, who must still sign off on the 2017 budget that parliament approved last week, has asked Grindeanu for a meeting on Tuesday to discuss the spending plan.
Before it's here, it's on the Bloomberg Terminal.
LEARN MORE