Trump Drops Taiwan Gambit, a Relief for China's Xi—and Asia
Bloomberg News
President reaffirms 'One-China' stance in phone call with Xi

'This was the one issue that was really difficult for China'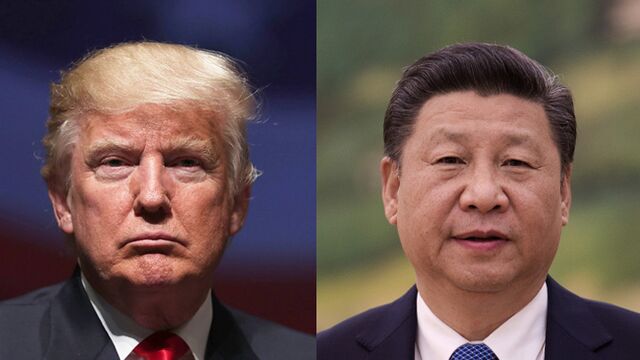 In interviews after his election win, Donald Trump wondered why he shouldn't use the One-China policy as a bargaining chip with Beijing to get better trade terms.
Three weeks into his presidency, the threat to upend U.S. policy on Taiwan -- a breakaway province in China's eyes -- is off the table. The White House said Trump agreed in a phone call Thursday with China's President Xi Jinping to respect the policy, which has been the basis of ties since the 1970s.
The move instantly reduces tensions for a simple reason: Taiwan is the biggest flash point that could spark a military conflict between the world's largest economies, and suck in U.S. allies in the region. Now, the focus turns to avoiding a trade war that could deal a blow to global growth.
"It was in no one's interests to see conflict between China and the U.S.," said Michael Bell, global market strategist at JPMorgan Asset Management. "This was the one issue that was really difficult for China. If that has been put to one side, then they can negotiate in a much more level-headed way."
The One-China policy acknowledges that China and Taiwan are part of the same country. China considers the island a province and has made recognition of the policy the foundation for diplomatic ties with the U.S. and all other countries. The U.S. continues to sell weapons to Taiwan and is obligated to defend the island under a 1979 law.
Xi Cooperation
The White House statement said Trump agreed to respect the policy at the request of Xi during the call, which it described as "lengthy" and "extremely cordial." In turn, Xi called for enhanced cooperation on a myriad of issues, from trade to investment to military affairs.
"Facing an extremely complicated global situation and rising challenges, there's a greater need for continuing to enhance cooperation between China and the U.S.," Xi said, according to state broadcaster China Central Television.
Signs of a detente had emerged recently. In Tokyo last week, Defense Secretary James Mattis said he didn't see any need for "dramatic military moves" in the South China Sea, and urged a diplomatic solution. Still, in China's eyes, Trump's move to back down on the One-China policy wasn't a win because Taiwan was never negotiable in the first place.
"It is tempting to say Beijing won Round One, but that would be misleading," said Steve Tsang, director of SOAS China Institute, University of London. "I should think that Xi is pleased with the outcome, but is still waiting to see what Trump really wants."
'Now We Can Talk'
On the campaign trail, Trump routinely blamed China for unfair trade practices that gutted the American manufacturing sector. He has threatened to slap tariffs on Chinese goods and label the nation a currency manipulator. He also appointed Peter Navarro, whose books include "Death by China: Confronting the Dragon -- A Global Call to Action," as a trade adviser.
With Taiwan's status off the table, former Chinese diplomats saw room for talks on other issues. They also saw Trump's retreat as evidence that Beijing's "strategic composure" in response to his earlier remarks worked well.
"If you appear too eager, he'd think you're weak and he'd become even more cocky," said Ma Zhengang, a former Chinese ambassador to the U.K. and ex-political attache in Washington. "Now we can talk. I see a lot of negotiation room in economy and trade. We can make mutual compromises here. Also international affairs like North Korea and Iran."
The White House statement was also well received in Taiwan. The Presidential Office said on Friday that good relations between the U.S. and China were beneficial, adding that it has agreed with his administration to adopt a "zero-surprise" approach to communications.
Deeds Matter
Japanese government spokesman Norio Maruyama welcomed the call, which came just as Prime Minister Shinzo Abe arrived in Washington for a summit with Trump on Friday.
"It's good" and "positive" for the "peace and security of the region," said Maruyama. Such calls are "a sovereign decision," he added.
Japanese Foreign Minister Fumio Kishida and Secretary of State Rex Tillerson didn't discuss the call during a meeting in Washington Friday morning, according to a Japanese government official, who asked not to be identified in line with ministry policy.
Yoichi Kato, a senior research fellow at the Rebuild Japan Initiative Foundation in Tokyo, said Abe wouldn't want to be drawn into a U.S. diplomatic spat with its longtime rival.
An "embarrassed Xi can take out his rage and frustration on Japan by playing a 'nationalism' card or a 'history card' to make up for his political loss," Kato said.
Still, as the world has seen over the past few months, Trump can change the atmosphere completely with a single tweet. And tensions remain high: The phone call with Xi came after U.S. and China military aircraft had an "unsafe" encounter over a disputed part of the South China Sea, the first publicly confirmed incident since May.
"The way that China sees Donald Trump will depend on his deeds in the coming months, not his words only," said He Weiwen, a former Chinese trade diplomat in San Francisco and New York and now a senior fellow at the Beijing-based Center for China and Globalization. "It has created a constructive atmosphere for talks. The results will depend on the talks."
— With assistance by Ting Shi, Peter Martin, Keith Zhai, David Tweed, Margaret Talev, and Isabel Reynolds
Before it's here, it's on the Bloomberg Terminal.
LEARN MORE