Spotify Says It Will Start to Stream Music From Prince's Warner Bros. Catalog
By
Streaming services works with Warner on 'Purple' ad campaign

Representatives working to get music streamed before Grammys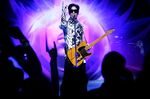 Spotify Ltd. said it will include music from Prince's Warner Bros. catalog on its streaming service starting Sunday, making widely available the work of an artist who jealously guarded his copyrights.
The Stockholm-based music streaming company said in an e-mail that it worked directly with Warner Bros. on the "Purple" outdoor advertising campaign, rather than with the late pop singer's estate. The Warner catalog includes hits "Purple Rain," and "Raspberry Beret."
The Prince estate and the different music companies representing his rights have been working feverishly over the past few weeks to get songs like "Purple Rain" on streaming services in time for the Grammys. The annual awards show on Sunday will feature a tribute to Prince.  Other major streaming services will also have the right to Prince's Warner Bros. catalog.
Months after his death in April at 57, Prince's estate began striking licensing deals to pave the way for his return to the streaming services, which have become the most important source of revenue for the music industry.
Read how Spotify rival Pandora is struggling to meet sales targets here.
With the deal for Prince, tech companies have won over most of the major artists who initially refused to stream. The Beatles licensed their music to streaming services in time for Christmas in 2015, while Neil Young and The Black Keys have made more of their songs available for streaming in recent months.
Prince famously yanked his catalog from most major services in 2015, another act of rebellion from an artist who assiduously controlled his image and his music and protested companies that he felt refused to compensate him adequately.
After leaving Warner, Prince had formed his own label, funding and recording his own work. He signed a series of one-off deals with groups including Sony Corp.'s Columbia, retaining ownership of his master recordings. Prince acquired control of his full catalog in a 2014 deal with Warner Bros. Records.
A singer and songwriter who demonstrated aptitude with a wide range of instruments, most notably guitar, Prince was one of the most influential musicians of the last half-century. His total music copyright catalog -- if it were to go on sale -- could be worth at least $100 million, Derek Crownover, the entertainment-law practice leader at Dickinson Wright PLLC, said in April.
Before it's here, it's on the Bloomberg Terminal.
LEARN MORE