Renault Profit Surges 38% as SUVs Grab European Market Share
By
French automaker targets 37 percent gain in revenue by 2022

Renault will present new strategic plan in October, CFO says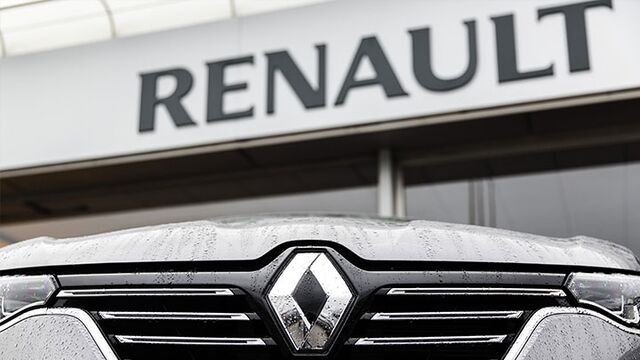 Renault SA's profit surged 38 percent in 2016 after the French carmaker gained market share in Europe with an expanded lineup of sport utility vehicles and upgraded models like the Megane hatchback.
Operating profit increased to 3.28 billion euros ($3.5 billion) from 2.38 billion euros a year earlier, the Boulogne-Billancourt-based company said in a statement. The figure exceeded the 3.05 billion-euro average of 16 analyst estimates compiled by Bloomberg. Revenue jumped 13 percent to 51.2 billion euros. The shares rose the most in seven months.
"It is a very good year, and we reached the targets that we set for ourselves," Chief Financial Officer Clotilde Delbos told reporters on Friday. "We reached these good results," despite struggles in once-strong markets like Russia and Brazil.
After overtaking French rival PSA Group as Europe's second biggest carmaker last year after Volkswagen AG, Renault faces the challenge of maintaining momentum as growth in its home region slows. That will put more emphasis on Renault's efforts to reduce its reliance on Europe by returning to Iran and expanding in India and Africa. 
2022 Target
To show that growth can continue, the company intends to present a plan in October to increase annual revenue 37 percent to 70 billion euros by 2022 and lift its operating margin to 7 percent of sales in five years from 6.4 percent.
Renault is "one of the most attractive earnings transformation stories" in the European auto industry, Thomas Besson, an analyst with Kepler Cheuvreux, said in a note. "Renault's 2017 earnings should grow further on full availability of new models and the early stage of an emerging markets' recovery."
The shares rose as much as 4.1 percent, the biggest jump since July 12, and were up 2.1 percent at 84.50 euros at 9:14 a.m. in Paris trading. The stock has climbed 18 percent in the past 12 months.
Last year, Renault widened its market share in Europe to 10.1 percent as it lured customers with SUVs like the Kadjar and Captur and refreshed the Megane as well as the Scenic minivan. The French manufacturer expects sales of its namesake Renault brand and the budget Dacia nameplate to grow further this year. Renault's worldwide deliveries rose 13 percent in 2016, compared with 4.6 percent across the sector.
Russian Loss
In 2017, Renault is targeting higher operating profit and revenue at constant exchange rates, excluding the impact of Russian carmaker AvtoVAZ, in which Renault owns a majority stake and which it is consolidating. The company expects the global car market to grow 1.5 percent to 2 percent, paced by a 2 percent increase in Europe and France.
Renault's alliance with Japanese automaker Nissan Motor Co. came just short of surpassing General Motors Co. and joining the ranks of the top-three automakers by global sales. The automotive partnership, which combined delivered 9.96 million vehicles in 2016, was lifted by the addition of Nissan's minority stake in Mitsubishi Motors Corp. Nissan's contribution to Renault amounted to 1.74 billion euros, while Lada-maker AvtoVAZ was a negative 89 million euros.
Renault, which is the target of a probe by French prosecutors into allegations of emissions irregularities, hasn't made any provisions for potential damages, Delbos said. The company has repeatedly insisted that its vehicles comply with French and European Union rules and aren't equipped with software to cheat on emissions. The CFO said the company had no information about the content of the French investigation.
Before it's here, it's on the Bloomberg Terminal.
LEARN MORE