Pence Based His Russia Remarks on What Flynn Had Told Him, Official Says
By
Question is whether Flynn discussed sanctions with envoy

Democratic lawmaker says Flynn may have to resign post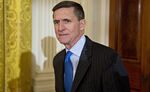 Vice President Mike Pence's assertion in a televised interview that National Security Adviser Michael Flynn hadn't discussed U.S. sanctions against Russia with the Russian ambassador was based on what Flynn had told him, an administration official said.
The official sought to add clarity to an emerging controversy about Flynn's contacts with the ambassador that's raising questions about whether he crossed the line into improper activity.
The Washington Post reported on Thursday that Flynn had discussed sanctions imposed by former President Barack Obama's administration with the Russian ambassador, Sergey Kislyak, before President Donald Trump took office, contradicting past assertions by both Flynn and Pence. A second senior administration official said that Flynn had no recollection of discussing the sanctions with Kislyak but was not certain the issue wasn't raised.
Trump told reporters traveling with him to Florida on Air Force One on Friday afternoon that he was not aware of the the Post report, then added, "I'll look into that."
While the Trump administration has acknowledged that Flynn spoke with Kislyak before Trump's inauguration, Pence said on CBS's "Face the Nation" on Jan. 15 that Flynn didn't discuss the sanctions Obama imposed in response to Russia's alleged hacking of Democratic Party officials during the presidential campaign.
'Strictly Coincidental'
"I talked to General Flynn about that conversation, and actually was initiated on Christmas Day, he had sent a text to the Russian ambassador to express not only Christmas wishes but sympathy for the loss of life in the airplane crash that took place," Pence said on the show. "It was strictly coincidental that they had a conversation. They did not discuss anything having to do with the United States' decision to expel diplomats or impose censure against Russia."
Pressed by the show's host, John Dickerson, Pence added that "those conversations that happened to occur around the time that the United States took action to expel diplomats had nothing whatsoever to do with those sanctions," and that "I don't believe there were more conversations."
Flynn and Pence briefly encountered each other at a joint news conference by Trump and Japanese Prime Minister Shinzo Abe on Friday at the White House. Pence quickly shook Flynn's hand, exchanged a few words, and walked past him. The two men did not smile.
The second administration official said that Kislyak had made two requests of Flynn that weren't granted. The Russians wanted to arrange a phone call between Putin and Trump prior to Trump's Jan. 20 inauguration, and also wanted Trump to dispatch officials to a Jan. 23 negotiation in Kazakhstan between the Syrian government and rebel groups fighting in that country's civil war.
Trump and Putin didn't speak for the first time in his presidency until Jan. 28.
Flynn Investigation
Representative Adam Schiff of California, the top Democrat on the House Intelligence Committee, said Friday that Flynn should resign if the Washington Post report is true.
"I don't know how people can have confidence in his judgment and truthfulness," Schiff said in an interview. "I don't know how other members of the administration could -- if they were unwitting of the nature of his conversation."
Representative Steny Hoyer of Maryland, the second-ranking House Democratic Leader, said in an e-mailed statement that the report raises "serious alarm bells."
"We need a full investigation to determine what the Trump Administration promised Russia and if U.S. laws were broken," Hoyer said.
Senator Ed Markey of Massachusets, a Democrat, said that Flynn "may have misled the Vice President of the United States."
"Whatever transpired," Senator Chris Murphy, a Connecticut Democrat, said in a joint statement with Markey, "the president needs to get his White House under control."
— With assistance by Billy House, and Jennifer Jacobs
Before it's here, it's on the Bloomberg Terminal.
LEARN MORE