France Has a New Front-Runner. Can He Last?
With Fillon's campaign in turmoil, Emmanuel Macron now has a real shot at the presidency.
By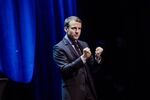 If France's 2017 presidential election were a movie, there would be no shortage of possible titles. Revenge of the Third Man or The Curse of the Front-Runner. Don't like them? With two and a half months to go and the plot twists coming fast and thick, there will be plenty of other possibilities.
The French go to the polls on April 23 to choose from a slate of at least five major candidates. If no one wins more than 50 percent—and no one ever has—then the top two face off on May 7. In the primaries held in November by the Republicans, the traditional center-right party, a late surge took François Fillon past former Prime Minister Alain Juppé and former President Nicolas Sarkozy. That victory made the 62-year-old Fillon the front-runner to be the next president. The most likely scenario seemed to be that he'd defeat the National Front's Marine Le Pen in the runoff as voters from other establishment parties coalesced around his candidacy to keep out the anti-European Union, anti-immigration Le Pen.
Fillon's campaign is now in turmoil. A newspaper reported in late January that his wife and two of his children were on the public payroll as his parliamentary assistants, earning a total of almost €1 million ($1.1 million) over more than a decade. While it's not illegal for French lawmakers to hire family members, they must actually work for their pay. Prosecutors are trying to determine whether the famille Fillon held real jobs.

The Republicans are deeply split between those who say Fillon should stand his ground and clear his name and those who say he should step down. Adding to the confusion: The party has no procedure to replace a candidate so close to an election. At a Feb. 6 news conference, Fillon gave an impassioned defense of his wife's work and said he'd campaign with renewed vigor.
Fillon has plummeted in the polls, and though he seems to have halted the slide, as things stand he wouldn't make the second round of voting. A poll conducted Feb. 7-8 by the Elabe survey group found that he'd run behind independent candidate Emmanuel Macron in the first round, with Macron getting at least 22 percent to Fillon's 17 percent. At 25.5 percent, Le Pen would take first place, but would be trounced by Macron in the second round, the poll found. That puts the 39-year-old Macron, who was minister of the economy from 2014 to 2016, in position to prevent France from becoming the first major European nation to fall to the populist wave that swept Donald Trump and Brexit to victory. A Le Pen win would almost certainly mean the end of the euro and maybe even the EU.
Macron's rallies are attracting crowds of believers in his vision of a plugged-in France open to the world and to new technologies. But he's under pressure to release a platform that goes beyond vision and gets into specifics. And with his technocratic background and belief in open borders, he's much shakier talking about national security in a country whose military is engaged in conflicts from the Sahara to Iraq and that's suffered more than 200 deaths at the hands of Islamic militants since January 2015. "Can Macron embody the image of a president of a country that's still at war, that's still facing a terrorism threat?" asks Bruno Cautres, a political scientist at Sciences Po in Paris. "That's Macron's big challenge."
At a rally in Lyon on Feb. 5, just two days after a soldier shot a machete-wielding attacker at the Louvre, Le Pen pushed the theme of Islamic terror and gave a Trump-like view of a defenseless France at the mercy of open borders. She got big cheers when she said Trump's win was a victory of the people. Macron also held a rally in Lyon that weekend and proudly said his program has no walls. Polls say most French reject Le Pen, largely because she wants to take France out of the EU. But with more than two months to go, there's still time for more surprises.

—With Carol Matlack
The bottom line: Front-runner Fillon's family scandal has made Macron the chief contender to defeat Le Pen in France's presidential election.
Before it's here, it's on the Bloomberg Terminal.
LEARN MORE