politics
Trump and Abe Agree to Start New Trade and Investment Talks
Isabel Reynolds, Margaret Talev and Jennifer Jacobs
The president has withdrawn from the Trans-Pacific Partnership

U.S.-Japan reaffirm alliance covers isles disputed with China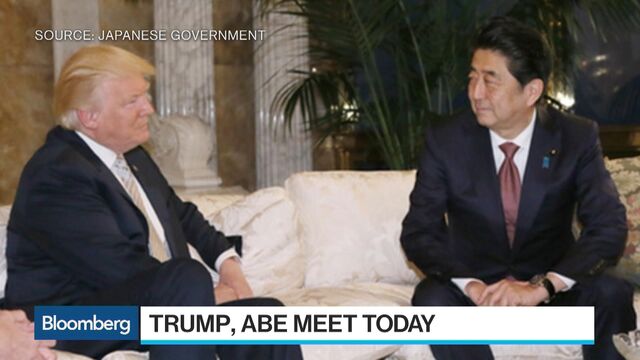 Japan and the U.S. will begin new talks on trade and investment following President Donald Trump's decision to withdraw from the Trans-Pacific Partnership, the two governments said in a statement after their leaders met in Washington on Friday.
The announcement came after Trump criticized Japan for what he said were "unfair" trade practices hampering U.S. auto exports to the country. Japan had the second-largest trade surplus with the U.S. last year, with the bulk of the difference due to trade in vehicles. Japanese Prime Minister Shinzo Abe has rejected the charge and underscored the fact that Japanese automakers in the U.S. provide jobs for U.S. citizens.

The two leaders "emphasized that they remain fully committed to strengthening the economic relationships between their two countries and across the region, based on rules for free and fair trade," they said in their statement.
Vice President Mike Pence and Japanese Deputy Prime Minister Taro Aso will lead the economic talks, Abe said at a joint news conference with Trump. Pence is expected to pay a visit to Tokyo following an invitation from the Japanese government.
Economic 'Threat'
Abe had warned earlier in the day that hacking, anti-trust laws and mistrust between the world's largest nations are hindering global trade, warning of a "threat" to the world economy in a speech to the U.S. Chamber of Commerce.
Abe noted in his speech to business leaders that 70 percent of Japanese cars intended for the American market are produced in the U.S, adding that no one in Japan complains about losing jobs because the Japanese have gained from the business as well.
Abe traveled with Trump to his Mar-a-Lago resort in Palm Beach, Florida for the weekend after their meeting in Washington.
Abe has already achieved one of his goals for the visit, with the U.S. confirming that the two nations' military alliance covers East China Sea islands that are disputed with China. The two nations oppose any unilateral actions to undermine Japan's administration of the islands, Trump and Abe said in their statement.
Disputed Islands
Such reassurance had been one of Abe's top priorities going into the meeting, after Trump had previously threatened to pull U.S. troops out of Japan, accusing the country of failing to pay enough for their maintenance, in comments that stirred concern among the Japanese public. Hemmed in by a pacifist constitution, Japan is reliant on the U.S. "nuclear umbrella" to deter potential threats from a rising China and an unstable North Korea.
Trump called Japan a "steadfast ally" during the news conference and thanked Abe for hosting U.S. military forces.
Ships and planes from China and Japan frequently tail one another around the uninhabited East China Sea islands known as Senkaku in Japanese and Diaoyu in Chinese. While Defense Secretary James Mattis and Secretary of State Rex Tillerson have already confirmed that the U.S. regards the isles as part of its commitment to the alliance, Japanese Foreign Minister Fumio Kishida has said he will continue to seek reassurance.
Japan welcomed Trump's first phone call with Chinese President Xi Jinping late Thursday, though ties between between China and Japan, strained by disputes over wartime history, have worsened amid acrimony over the islands, as well as China's actions in the South China Sea.
(
Updates with leaders' press conference and statement.
)
Before it's here, it's on the Bloomberg Terminal.
LEARN MORE