Stun Grenades, Lawmakers' Brawl Mar Zuma's Keynote Address
By , , and
Soldiers help police keep protesters at bay outside Parliament

South Africa president's approval rating has dived, poll shows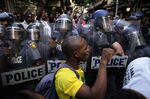 South African President Jacob Zuma's annual state-of-the-nation speech descended into chaos as opposition lawmakers brawled with security guards, riot police fired stun grenades outside Parliament and rival party supporters clashed in the streets of Cape Town.
Parliamentary speaker Baleka Mbete summoned the guards to eject members of the Economic Freedom Fighters Thursday after they repeatedly interrupted proceedings and raised points of order in a bid to stop the president from speaking. EFF members, wearing their trademark red coveralls and miners' helmets, shouted "tsotsi," or criminal, as Zuma entered the chamber, while their counterparts from the ruling African National Congress tried to drown them out by chanting "president" and "ANC".
As the security agents moved in to remove them, EFF members engaged in fistfights and swung at them with their helmets before being wrestled from the chamber. The main opposition party, the Democratic Alliance, and most other opposition groups then walked out of the assembly. Outside Parliament, EFF and ANC supporters clashed before being separated by police.
"Parliament has been militarized," EFF leader Julius Malema said outside the chamber after he was thrown out. "This place has been declared a state of emergency."
Deepening Tensions
The sight of the legislature being reduced to fistfights and the security clampdown outside showed the growing tensions in South Africa's democracy that have deepened under Zuma's controversial administration. The president has been implicated in a series of scandals ranging from taxpayer money spent on his private home to his relationship with a wealthy family accused of using the friendship to exert influence over the government.
Zuma resumed his speech 80 minutes after he was due to begin. He pledged to engineer a radical economic overhaul to tackle poverty, give the black majority a bigger stake in Africa's most-industrialized economy and reduce racial income disparities that persist almost 23 years after the end of white-minority rule. The government will use legislation and the 1.4 trillion rand ($104 million) its spends annually on goods, services and infrastructure to achieve its goals, he said.
"Only 10 percent of the top 100 companies on the Johannesburg stock exchange are owned by black South Africans," Zuma said. "White households earn at least five times more than black households. The majority of black people are still economically disempowered. They are dissatisfied with the economic gains from liberation."
The ANC suffered its worst electoral performance last year, when it lost control of Pretoria, the capital, and the economic hub of Johannesburg. While Zuma has said he'll step down as head of the ANC in December, his term as president continues until 2019.
State Intervention
In his speech, Zuma said the state will take a bigger direct stake in mining industry and finalize laws that will set out required levels of black ownership for the industry. While the government will also take steps to accelerate the redistribution of land to address racial ownership disparities, a law that allows compulsory expropriation will be referred back to Parliament to ensure it complies with the constitution, he said.
The scope of the security lockdown for Zuma's speech was unprecedented since the end of apartheid. Zuma ordered 441 soldiers to join about 6,000 police maintain order during his speech. The police erected barricades and closed roads around the legislature, preventing anti-government protesters from approaching the precinct.
The rand weakened as lawmakers and party supporters clashed before paring losses to be little changed at 13.4220 per dollar by 9:48 p.m. in Johannesburg.
"The violence and disorder witnessed this evening is the direct result of a corrupt political party, clinging to power by using fear tactics and intimidation," Democratic Alliance leader Mmusi Maimane told reporters after walking out of the legislature.
Slowing Economy
Under Zuma's presidency the economy has floundered, with the Treasury estimating 0.5 percent growth last year, and the 27 percent jobless rate is the highest since 2003. The nation is struggling to retain its investment-grade status at S&P Global Ratings and Fitch Ratings Ltd.
The EFF repeated its charge that Zuma, 74, was no longer a legitimate president after the nation's top court ruled last year that he violated the constitution by not obeying an order by the nation's graft ombudsman to repay state money spent to renovate his private residence. The ANC has used its 62 percent majority in Parliament to shield him from opposition motions to impeach him.
Zuma was also implicated in another report released by the ombudsman last year, which implied that he allowed members of a wealthy family who are in business with his son to influence cabinet appointments and the issuing of state contracts. Zuma has denied ever intentionally breaking the law and has challenged the report in court.
The president's approval rating has slumped to four out of 10 from 5.7 in November 2014, a survey of 3,416 South African adults conducted by research company Ipsos between Oct. 25 and Nov. 28 for broadcaster eNCA that was released Wednesday showed.