Trump Promises 'Phenomenal' Tax Plan as Ryan's Ideas Draw Fire
By
Outline for comprehensive overhaul coming in weeks: Spicer

GOP lawmakers raising objections to border-adjustment concept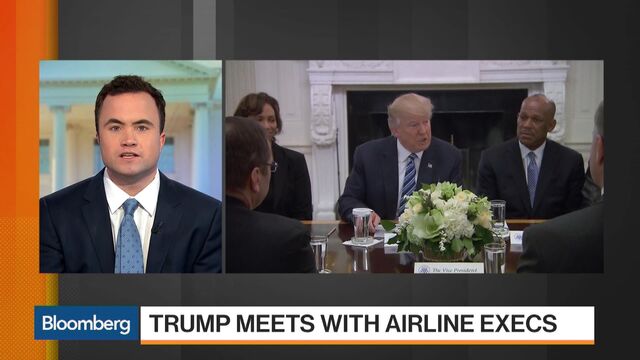 President Donald Trump said a "phenomenal" plan to overhaul business taxes may be released within the next "two or three weeks," heightening expectations as House Republican lawmakers are raising objections to their own leaders' favored plan.
Trump offered no details -- and White House Press Secretary Sean Spicer told reporters later that specifics would emerge only in the coming weeks. Still, he said the White House is at work on an outline of the most comprehensive business and individual tax overhaul since 1986.
During a meeting with U.S. airline executives, Trump said his plans call for "lowering the overall tax burden of American businesses, big league." He added: "We're going to be announcing something I would say over the two or three weeks that will be phenomenal in terms of tax."
Trump's aides last month said he was warming to a corporate tax plan that's favored by House Speaker Paul Ryan -- it would cut the corporate tax rate to 20 percent and tax U.S. companies on their domestic income and imports, while exempting their exports and offshore income. That so-called "border-adjusted" plan has run into widespread opposition from retailers, oil refiners and other industries. Major exporters, including companies like General Electric Co., have expressed support.
'Facing Competition'
It's unclear whether Trump fully favors that approach, which Ryan has pitched as a pro-growth mechanism that would spur companies to keep their production in the U.S. But Spicer's comments suggested that the president supports similar goals at least.
"We're facing competition from abroad because of our tax code," Spicer said. "It favors companies not wanting to stay and the president recognizes that." The administration has been working with Congress on both business and individual taxes and wants to achieve a bipartisan approach, he said.
Spicer said the administration is also working on an overall budget proposal for Congress. "We'll have a budget out in a few weeks," he said.
Representative Kevin Brady, chairman of the House Ways & Means Committee, has been trying to gain support for the border-adjustment plan over the past month, calling it integral to paying for meaningful tax reform. So far he hasn't achieved consensus, with some Republicans starting to criticize the plan. Others remain undecided.
'Hammers Consumers'
Senator David Perdue of Georgia slammed Ryan's proposal as an effective "increase in consumer prices" and a danger to jobs in a Feb. 8 letter to colleagues.
"This 20 percent tax on all imports is regressive, hammers consumers and shuts down economic growth," Perdue said. He added that he supports other aspects of the House tax plan, like lowering corporate taxes and repatriation taxes.
Brady appreciates Perdue's input, but believes action has to be taken now "to tax all products sold in America at the same equal rate," Emily Schillinger, a Brady spokeswoman said.
Senator Mike Rounds, a South Dakota Republican, said Thursday he doesn't currently support the border-adjusted tax in part because it would hit U.S. consumers who have benefited from inexpensive imports.
"You're really talking about a major change in the United States in terms of who pays the bills," Rounds said on CNBC. "Anytime we start talking about how we're going to regulate products going out and products coming in, we better darn well know what the impact on the economy is before we start making major changes."
Senate Questions
Republicans have 52 members in the Senate and need 50 to support a tax bill, since the House plan is unlikely to have any Democratic support. The border-adjustment plan, which is estimated to raise about $1.1 trillion in revenue over a decade, according to the conservative Tax Foundation, helps to offset the tax plan's corporate and income tax cuts. That's essential to keeping tax reform deficit neutral -- a prerequisite for passing a tax bill through the Senate without Democratic votes. Senate Finance Chair Orrin Hatch said last week that he's unsure if the provision will make it into a tax package.
Senator Pat Roberts, a Kansas Republican, said some agriculture groups are worried that a border adjustment would harm them.
"If you have that kind of a border tax, a lot of commodity groups and farm organizations just have some concerns," he said in an interview Jan. 30. "I'm not saying it can't be worked out; I'm just saying right off the bat there is some concern."
Retailers have railed against the proposal saying they'd suffer under the tax because they rely heavily on imported materials. Other industries that import goods, including automakers, oil refiners and restaurants, have also said the tax could lead to higher prices for consumers.
'Compelling Case'
Brady met with House conservatives Tuesday to try to bring them on board. The House Freedom Caucus still doesn't have an official position on it, according to Representative Mark Meadows of North Carolina. Brady said during the meeting he's trying to complete a revision of the tax code by this summer, Meadows said.
"He made a very compelling case that if we don't do the border adjustment tax, meaningful tax reform as we know it will not happen," Meadows said of Brady.
Other Republican representatives are opposed or remain unconvinced.
"I'm not in favor at this point," Representative Darrell Issa of California said earlier this week. Issa said it may be less disruptive to impose a value added tax on imports.
Representative Mark Sanford of South Carolina also said he has a "natural hesitancy" about a border tax.
Before it's here, it's on the Bloomberg Terminal.
LEARN MORE