Senators Say Gorsuch Dismayed by Trump as President Attacks
By and
Another senator says Gorsuch expressed dismay at Trump's words

Trump says Blumenthal 'misrepresented' talks with Gorsuch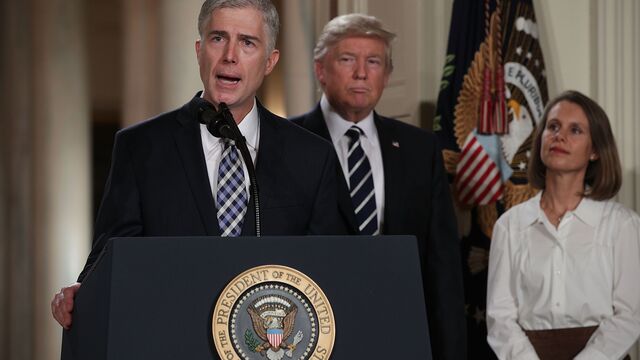 Donald Trump's Supreme Court nominee, Neil Gorsuch, told more than one senator he was dismayed about the president's attacks on the judiciary and encouraged Senator Richard Blumenthal to make the criticisms public, lawmakers said Thursday.
"Americans dislike bullies and President Trump is acting like a bully" against the judiciary, Blumenthal told MSNBC after Trump said in a Twitter post that the Connecticut Democrat misrepresented what Gorsuch said during their meeting.
At a White House meeting Thursday attended by about 10 Republican and Democratic senators, Trump reasserted that Blumenthal "misrepresented" his conversation with Gorsuch. He also urged Senate to confirm his high court nominee.
"A lot of people are liking him very much on the other side. And I think that because of politics perhaps they're not going to vote for him. And I think it's a shame," the president said.
Blumenthal said on MSNBC Gorsuch told him that "you should feel free to mention" publicly Gorsuch's critiques of Trump's attacks on the independent courts. He also said Gorsuch made similar comments to other lawmakers, including Senate Minority Leader Chuck Schumer of New York.
Senator Ben Sasse, a Nebraska Republican, told MSNBC that Gorsuch articulated the same concerns to him about Trump's comments on judges.
"He got pretty passionate about it," Sasse said of Gorsuch when they spoke about Trump's remarks. He said Gorsuch told him that an attack on the "brothers or sisters of the robe" is "an attack on all judges."
Trump 'Confident'
The firestorm came after Trump took to Twitter Thursday to attack Blumenthal's trustworthiness. "Sen. Richard Blumenthal, who never fought in Vietnam when he said for years he had (major lie), now misrepresents what Judge Gorsuch told him?" Trump said, referring to the lawmaker's past misstatements about his Vietnam-era military service.
Trump counselor Kellyanne Conway said on Fox News that Trump is "fully confident" in Gorsuch and comfortable with nominees expressing their own points of view, and that Gorsuch's comments have been "misrepresented." Trump, she said, "is trying to make everyone see the credibility" problems of Blumenthal.
"I absolutely accurately stated what Judge Gorsuch said to me, as confirmed by his own spokesman, colleagues who heard the same thing in their private meetings," Blumenthal told CNN. "And I believe Judge Gorsuch, more than just saying it behind closed doors, needs to publicly condemn" Trump's comments.
Trump made his attack on Blumenthal even as he's reaching out to other Democrats on the nomination. He and Vice President Mike Pence held a "listening session" Thursday on Gorsuch's nomination with about 10 Republican and Democratic senators including Joe Manchin of West Virginia and Jon Tester of Montana, who have said they're open-minded about confirmation. Both are from states that Trump won in November and are under political pressure to support Trump's high court pick.
"It was refreshing to have a dialogue with both the Democrats and Republicans," Manchin told reporters after the meeting. He said they discussed other topics in addition to the Gorsuch nomination, and "nobody got into name-calling."
Confirmation Fight
Meanwhile, Republicans sought to use Gorsuch's words to make the case Democrats should support his nomination.
"I think it's an honest answer and that always helps," said Senator Lindsey Graham, a South Carolina Republican. "People who love the law are really very worried about attacking an independent judiciary."
Senator Richard Durbin of Illinois, the No. 2 Democrat and a senior member of the Senate Judiciary Committee, scoffed at Gorsuch's language. Like Blumenthal, he said the judge will need to say something far stronger to attract much Democratic support.
The word "disheartening" is "as soft a pitch as you can throw at someone," Durbin said.
After Trump's early-morning tweet, Kelly Ayotte, the former Republican senator from New Hampshire chosen by the White House to guide Gorsuch's nomination, said in a statement that Gorsuch has "emphasized the importance of an independent judiciary, and while he made clear that he was not referring to any specific case, he said that he finds any criticism of a judge's integrity and independence disheartening and demoralizing."
Ayotte said Gorsuch made clear to Blumenthal and other senators that he couldn't comment on specific cases or politics.
'So-Called Judge'
Blumenthal told reporters Wednesday that Gorsuch "expressed to me that he is disheartened by demoralizing, abhorrent comments made by President Trump about the judiciary." Ron Bonjean, a spokesman aiding Gorsuch in the confirmation process, largely confirmed Blumenthal's account, saying Gorsuch didn't use the word "abhorrent" but did say "disheartening" and "demoralizing."
Trump has accused judges of threatening national security as his restrictions on refugees and travelers from seven predominantly Muslim nations undergo legal challenges. Trump on Feb. 4 criticized a federal judge who blocked his travel ban as a "so-called judge." On Wednesday, the president argued that his power to limit immigration shouldn't be challenged in courts.
"The courts seem to be so political, and it would be so great for our justice system if they would be able to read a statement and do what's right, and that has got to do with the security of our country, which is so important," Trump told a conference of police chiefs and sheriffs in Washington.
Vietnam War
Blumenthal in 2010 said he unintentionally misspoke when he claimed or suggested on several occasions that he had served in Vietnam. He served in a Marine Reserve unit based in the U.S. in 1970.
Trump also criticized CNN's interviewer, Chris Cuomo, in a tweet, saying he never asked the senator "about his long-term lie about his brave 'service' in Vietnam. FAKE NEWS!"
In fact, the newscaster did ask Blumenthal about the historical misstatement. It was his first question to the senator.