The Snow Removal Business Is a Mess
A fragmented industry and the weather's whims make buying and selling snow removal services a big white headache.
By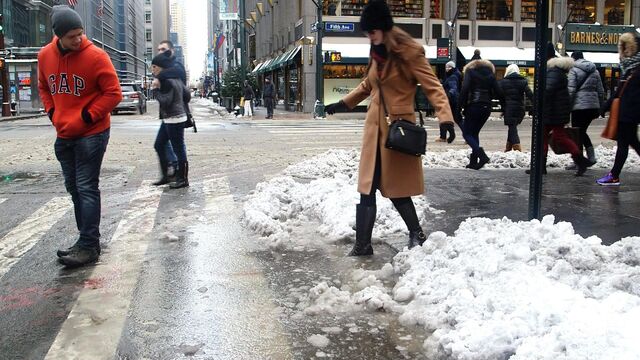 As a blizzard threatened the Northeastern U.S. on Thursday morning, commercial landlords grappled with a problem that homeowners can relate to: Hiring someone to clear the snow is a slippery business.
There are plenty of good reasons to pay for snow removal services: to clear parking lots so employees can get to work and consumers can walk the aisles, to limit liability for slip-and-falls. Those imperatives helped snow plow services ring up $14.3 billion in U.S. sales last year, according to market researcher IBISWorld, with most of the revenue coming from clearing office, retail, and manufacturing properties. 
Figuring out how to pay for it is another story.
One option is to pay by the inch of snowfall or by the amount of time it takes to clear a space. That's great for winters when it doesn't snow much, but it means the property owner is exposed to some financial risk in the case of a blizzard. The other option is to pay a flat fee to cover snow removal for an entire winter, giving the mall operator or homeowners association, or whoever, some cost certainty. That strategy makes managers feel smart in heavy snowfall. A couple of dry seasons and they may start to question its wisdom.
"The client needs more predictability in their spending, and the contractor needs more predictability in their revenue," said Phill Sexton, director of outreach at the Snow and Ice Management Association, a trade group. As things stand, he said, "a good year for one is a bad year for the other."

That problem is complicated further by a lack of sophistication on the supply side. There were about 116,000 snow removal establishments in the U.S. last year, according to IBISWorld, meaning the average shop brought in less than $125,000 in revenue. Most of those companies are landscapers keeping their capital busy in the winter months. What bigger firms do exist generally limit their exposure to meteorological whims by subcontracting work to smaller players. It's tough to normalize pricing in such a fragmented industry.
There's some hope, at least for big customers. Private equity firms have been buying up landscaping companies in recent years, culminating with KKR's $1.6 billion deal for a landscaper called Brickman Group in 2013, then merged it with another company under the new name of BrightView Landscapes. The Rockville, Md.-based company is the biggest player in both the landscaping and snow removal businesses. It brought in more than $2 billion in revenue last year, according to IBISWorld, including $342 million from snow removal.
"There is a market for large businesses that can deliver consistently in multiple locations and are easy to contract with," said Ron Edmonds, principal at the Principium Group, an advisory firm. That may help big property owners get better service at a more predictable price. Smaller customers are unlikely to break from the status quo. "The local manager," Edmonds said, "is often going to opt for the local plow guy."
Before it's here, it's on the Bloomberg Terminal.
LEARN MORE