Singapore Unveils Growth Plan as Globalization Mood Darkens
By , , and
Strategies for next decade favor openness over protectionism

Singapore committee sees average annual growth of 2%-3%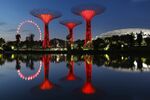 Singapore unveiled a set of strategies that reinforce its long-standing commitment to economic openness, as the trade-dependent nation seeks to drive growth in the next decade after a "dark shift in mood away from globalization."
The country should deepen its international connections and improve the capability of its people and companies to adapt to new geopolitical and economic realities, according to recommendations released Thursday by the Committee on the Future Economy. These adjustments will enable the economy to grow on average 2 percent to 3 percent a year, said the committee, led by Finance Minister Heng Swee Keat and Minister for Trade and Industry S. Iswaran.
"The strategic imperative for free and open markets remains as important as ever, for Singapore and the global economy," the committee said. "Given the current sentiments against globalization, we must not only resist protectionism but forge ahead to deepen linkages with our overseas partners and seek opportunities in new markets."
Singapore, where two-thirds of gross domestic product is generated by external demand, has adjusted its economic policies in past decades to help the nation adapt to international conditions. The country now faces the challenges of subdued global growth, changing supply chain structures and rapid technological change, the committee said.

"The world saw a dark shift in mood away from globalization in 2016," it said in its report. "It no longer seems certain we are on an inexorable course towards greater globalization, stronger multilateral institutions and a more connected world. Instead we saw nativist politics and protectionist economics growing in strength and influence in Europe and America. The anti-globalization trend will undermine international trade, hurting all countries, but particularly small open ones like Singapore."
Singapore's growth slowed to a seven-year low of 1.8 percent last year.
Read about the U.S. and China's evolving stance on globalization here
Khoon Goh, the Singapore-based head of Asia research at Australia & New Zealand Banking Group Ltd, said the committee's commitment to advance trade and liberalization is no surprise. A key departure from previous practice, however, is a call for the government to take more of a step back when it comes to chart economic development, he added.
"The government is no longer picking winners in terms of sectors to target," Goh said. "Instead, they will be enablers for the private sector to drive innovation and provide capital."
Here are some of the recommendations of the committee, which was set up just over a year ago and consulted more than 9,000 stakeholders including trade associations and chambers, public agencies, unions, companies, workers, academics and students.
Prime Minister Lee Hsien Loong said the the government accepts the strategies proposed and will pursue all of them, according to the report.
Deepen, diversify global connections
* Work with "like-minded" partners to advance the liberalization of trade and investment, including those in less traditional markets
* Strengthen trade cooperation, reduce barriers, such as through Southeast Asia's Asean Economic Community and the Regional Comprehensive Economic Partnership that also includes China
* Form a Global Innovation Alliance of Singapore universities and companies with overseas partners in major innovation hubs and key demand markets
* Growth markets Singapore should focus on developing stronger ties are Southeast Asia, China and India
Supporting Singapore stock exchange
* To support the SGX as a listing venue for companies in high technology, bio pharmaceutical and life sciences industries, Singapore should allow dual class structures with appropriate safeguards to mitigate governance risks
Growth clusters
* Clusters that marry high projected growth rates with Singapore's comparative advantages:
Digital cluster, advanced manufacturing, hub services, logistics, urban solutions and infrastructure, and health care
* Building a globally competitive manufacturing sector, at around 20 percent of GDP, over medium term
Strengthen companies' ability to scale up, innovate
* Simplify regulatory framework for venture capital funds
* Encourage more private equity firms to be based in Singapore
* Develop new forms of support for the private financing of Singapore companies
* Targeted assistance for high-growth enterprises
* Encourage partnerships between large, small enterprises
Regulatory environment, tax
* Government to design regulatory environment that supports innovation and risk taking
* Review Singapore's tax system: tax regime should remain broad-based, progressive, fair even as Singapore raises revenue over time to meet rising domestic needs, and remain competitive and pro-growth
Build Digital Capabilities
* Help SMEs adopt digital technologies
* Build capabilities in analytics and cybersecurity
* Establish dedicated program office to support enterprises in exploiting data as an asset
* Singapore should strive to become a global leader in innovation, pervasive use of fintech
Acquire Skills
* More technology-enabled training programs
* Facilitate training and employment of workers
The CFE is the latest of a series of similar committees, involving public- and private-sector participants, convened since at least 1985 to provide recommendations that have helped shape Singapore's economic policies.
Many recommendations from the previous group -- known as the Economic Strategies Committee -- released in 2010, were followed. These included raising fees companies must pay to hire foreign labor, a measure designed to cool the inflow of overseas workers, and setting up a national productivity fund to finance programs to boost productivity.
— With assistance by Chanyaporn Chanjaroen, and Karl Lester M Yap
Before it's here, it's on the Bloomberg Terminal.
LEARN MORE