Silicon Valley Fights Trump in Its Free Time
A series of quickly made websites provide shortcuts to constituent calls and other forms of civic engagement.
By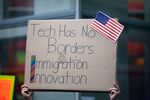 As it grew clear on election night that Donald Trump would become president, Nick O'Neill, a 32-year-old San Francisco programmer, suddenly got a lot more interested in civic engagement. Even in the internet age, phone calls remain the primary means for constituents to pressure their congressional representatives. O'Neill wanted an easy way to register dissent on a regular basis once Trump began trying to put various elements of his platform into effect.
With about two months' worth of help from his wife, Rebecca Kaufman, and several friends, O'Neill created 5 Calls, a website aimed at making complaints to members of Congress as easy as possible. Users type in their Zip codes and indicate which decisions or policy moves they oppose—a Trump cabinet pick, his Supreme Court nominee, the Jan. 27 ban on immigrants from seven mostly Muslim countries—and the site returns the local representative's phone number and a script for the call, written by Kaufman. The site attempts to track the number of calls visitors have made by asking them to click a button after each one. Since the site went up on Jan. 17, the tally has topped 400,000.
More than 1,200 tech employees in the politically energized Bay Area have pledged to leave work on March 14 to attend a rally against the travel ban at Palo Alto City Hall. 5 Calls is one of several new efforts by startup types to facilitate opposition in the age of Trump. During the eight years of the Obama administration, the rise of cloud software and other collaboration tools, as well as the culture of speed-coding hackathons, made it a lot easier for them to kludge together such websites cheaply without putting their day jobs on hold.
"It's amazing, the ease with which someone can learn to code, build something, get access to the resources they need in terms of help and mentorship," says Zack Shapiro, a programmer who created a similar site, Call to Action. "I think this election gives people a really targeted reason to build stuff."
Call to Action, created over the weekend of Nov. 18 by programmers from around the country, also facilitates calls to Congress, though it doesn't include scripts. The day it launched, podcaster and former Obama speechwriter Jon Favreau tweeted about it, and the site notched 21,000 visits. Since then, Shapiro says, traffic has slowed to about 4,600 visits a week. Yet collectively, sites like Call to Action and 5 Calls, along with less coding-intensive projects like the Indivisible Guide, which offers a digital manual for political action, have helped flood congressional offices. For the past few weeks, callers have regularly reported busy signals and full voicemail in-boxes.
Some of the coder efforts are purely informational. Greatcompany.org, another weekend project, is a searchable database of the companies that have opposed Trump's immigration ban. More than 500 of the site's 30,000 visitors have added information about their employers, says creator Daniel Gross, a partner at leading startup incubator Y Combinator. The site also makes it simple for people to send tweets to their bosses, congratulating or questioning them on their stance on the ban, in the hope that public pressure could sway more executives.
Track Trump, a collection of status updates on the things the president promised to do during his first 100 days in office, has received more than 100,000 visits since its debut on Inauguration Day. The site shows a checklist of agenda items broken down by category (trade, education, health care) as well as a day-by-day timeline.
"I think people want to figure out how to contribute the best way they can to preserving values that we hold dear," says Track Trump creator Sam Altman, the president of Y Combinator. Altman has been one of the most outspoken anti-Trump voices in Silicon Valley since the inauguration, urging other tech executives to stand publicly against the travel ban and inviting the American Civil Liberties Union, which has sued the government over the policy, to join Y Combinator's program of funding and marketing mentorship.
Like the other coders, Gross and Altman say they didn't coordinate their projects. "Many citizens across this country are frustrated or alarmed by what's going on, and everyone has the ability to go and protest," says Gross. "We happen to have this extra little bit that we can do, which is that we can write software."
The bottom line: Techies are getting more political with a range of websites that walk visitors through, among other things, complaints to Congress.
Before it's here, it's on the Bloomberg Terminal.
LEARN MORE