New GOP Memo Targets Stress Tests, CFPB in Dodd-Frank Changes
by , , and
Republican outlines revised plans for dismantling 2010 law

Memo to fellow lawmakers lays out updated relief for lenders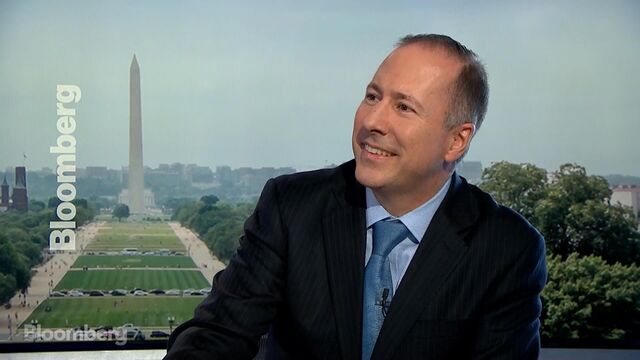 There's a lot for Wall Street to like in House Republicans' revised plan to roll back financial rules.
House Financial Services Committee Chairman Jeb Hensarling, who outlined his latest effort in a memo to lawmakers this week, would give banks relief from annual stress tests that assess whether they can survive financial meltdowns. The legislation, which he could introduce as soon as this month, also seeks to eviscerate key powers of the Consumer Financial Protection Bureau.
Hensarling is taking a second crack at weakening the Dodd-Frank law, which set new rules for banks after the 2008 financial crisis. Last year, the Texas Republican's bill stalled in the House. This year's version is again likely to be a tough sell, especially in the Senate where it will need Democratic support to pass.
"We believe this bill is more about sending a message on how the GOP wants to change the law than it is about putting forward a package that could reach the president's desk," Jaret Seiberg, an analyst with Cowen & Co., said in a research note.
Trump Review
President Donald Trump last week directed regulators to review financial rules and report back on suggested changes within 120 days, one of the first steps his administration has taken to make good on his promise to do "a big number" on Dodd-Frank. Still, major changes to the law would need to be made by Congress.
The final legislation could differ from the changes outlined in Hensarling's memo. Jeff Emerson, a spokesman for the financial services panel, declined to comment.
Democrats said they will fight the measure. The updated version of the legislation will be "worse than the original," said Maxine Waters of California, the top Democrat on the financial services panel, in a statement. "This bill makes it crystal clear that Republicans mean to disarm our consumer protections, expose the American public to financial predators, and ultimately steer us in the direction of another Great Depression."
Large banks have been pushing for changes to stress tests since they were put in place by the Federal Reserve to help stabilize the financial system after the crisis. Lenders that fail annual stress tests face restrictions on paying dividends and buying back shares.
Hensarling wants to reduce the frequency of the testing to every other year, and exempt lenders from the exams altogether if they agree to dramatically increase their capital, according to the memo.
Managing Risk
Additionally, the proposal would largely toss out one of the stress test's toughest components -- the so-called qualitative test that evaluates a bank's plans for managing capital and risk. That part of the yearly exercise has been a thorn in the side of some firms, including the U.S. units of Deutsche Bank AG and Banco Santander SA, which have failed multiple times.
Hensarling is seeking to eliminate much of the Consumer Financial Protection Bureau's regulatory powers, and transform it into a law enforcement agency. The memo proposes the controversial regulator only be able to pass rules that have been mandated by Congress. The plan would further restrict the agency by eliminating its authority to supervise financial firms and doing away with a public database documenting consumer complaints.
He also wants the bureau to be run by a "sole director, removable by the president at-will," according to the memo. That's one aspect of the plan not likely to be backed by financial services executives and many Republican lawmakers who have argued that the agency should be run by a commission.
The CFPB has been a lightning rod for Republicans and the industry. They say it lacks accountability, pursues investigations that are outside its jurisdiction and that its structure gives too much power to the director.
Director's Future
Trump should fire the current director, Richard Cordray, before his term ends in July 2018, Hensarling wrote in an op-ed in the Wall Street Journal on Thursday. He said that if Congress can't pass a bill that would make changes to the agency's structure and funding, Republicans should shoehorn changes into a budget reconciliation bill that would require just a simple majority to pass.
Hensarling's plan is wide-ranging and goes beyond weakening Dodd-Frank.
One provision would set up a committee to reevaluate the Securities and Exchange Commission's enforcement activity. Hensarling's plan also would push regulators to lower corporate fines by telling them to consider likely penalties from other agencies before imposing their own.
It's not clear how quickly the legislation will advance through Congress.
"The House will probably move a little quicker and probably move a little bolder," Hensarling said in an interview with Bloomberg Television. "At some point, we will go and deal with whatever the Senate work product will be."
Before it's here, it's on the Bloomberg Terminal.
LEARN MORE