Brick-and-Mortar Shops Bet on Startup Tech to Bring Back Customers
E-commerce companies are tapping data for clothes and other goods. Old-school rivals want them, too.
By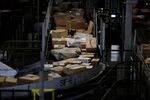 Like many retailers, French Connection has seen its sales falter in recent years. The U.K.-based clothier hopes to improve its position with insights from a vendor some peers would regard as part of the problem: Le Tote, a five-year-old fashion rental service. "All we know is what went out the door and what was not returned," says Carolyn Glynos, vice president for U.S. sales and merchandising at French Connection, which sells through its own stores as well as through third parties. In contrast, Le Tote has amassed a vast trove of knowledge about its customers' preferences, along with the fit and quality of individual items—some of which it's willing to share with French Connection and its other suppliers at no charge.
Le Tote's customers pay as little as $39 a month for a customized selection of clothing and accessories from French Connection, Vince Camuto, Joie, and other labels. Each customer receives a box with items she can purchase or return after a few wears. New subscribers are asked questions about their style preferences, which helps determine the contents of each shipment. They're also prompted to provide feedback on items they received, including fit, color, and number of times worn. The information helps the company ensure that subsequent deliveries contain more hits and fewer misses. About 75 percent of merchandise sent out garners reviews, says Le Tote's chief merchandising officer, Ruth Hartman, which is far higher than for most online retailers. "We're building a recommendation engine around clothing," says Charlie Bowman, the company's vice president for engineering.
Le Tote also knows how clothing holds up, because most pieces are shipped out multiple times. When it observed that a popular T-shirt style from French Connection was wearing out faster in woven areas than knitted areas, Le Tote shared that information with the clothier, which then tweaked the design, Glynos says. The retooled shirts will hit the market this spring.
Acting on other feedback from Le Tote, the clothier is also ditching numeric sizes on looser dresses sold in the U.S. in favor of the less precise designations of small, medium, and large to help eliminate confusion. "If this information is helping us provide better product and better fit, that's going to help our customer," Glynos says.

Can reams of e-commerce subscription data—from such companies as Gwynnie Bee and Dia—shore up traditional retail at a time when store closures and bankruptcies have become the norm? "I'm very excited about retailers' ability to use data to grow," says Kirsten Green, founder of Forerunner Ventures, a venture capital company in San Francisco that counts Dollar Shave Club and Warby Parker among its portfolio companies.
More intensive use of data in design and inventory management can boost sales, Green says, particularly at full price. Call it "dynamic retail," a term that she says was coined by Rockets of Awesome, a mail-order service for children's clothing that Forerunner backs. The e-commerce startup assembles seasonally appropriate selections of items and ships them out to its customers four times a year. Parents keep what they like and return the rest.
French Connection also recently began working with Stitch Fix, a San Francisco startup that bills itself as a personal styling service for men and women. Stitch Fix Chief Algorithms Officer Eric Colson says the goal is to get to know customers well enough to send them only clothing they'll want to buy. In traditional retail, he says, the burden falls on shoppers, who must discover on their own which brands suit them best.
Stitch Fix boasts it can sometimes identify preferences customers themselves may not be aware of. If scores of men send back a shirt and say the fit across the chest was off, Stitch Fix could compare that with other shirts the same customers bought and kept. It might then figure out that the second button on the returned shirt sat an inch higher—data it can share with suppliers.
In time, a shopper entering a brick-and-mortar store might be able to consult an app that would know her tastes so well it would steer her directly to an article of clothing she'd like. Give it a few years, Colson says, and you might hear a shopper say, "Remember when we had to wander around and find our own things?"
The bottom line: In the U.S., French Connection is tweaking its clothing based on feedback supplied by mail-order styling services.
Before it's here, it's on the Bloomberg Terminal.
LEARN MORE