McCain Spurns Spicer Call for Apology Over Yemen Raid Criticism
By
Trump spokesman demands apology from critics of operation

McCain called raid 'a failure' because of death of serviceman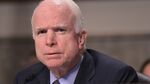 White House Press Secretary Sean Spicer said Wednesday that critics of the recent Yemen raid, including Senator John McCain, should apologize for not calling it a "success," but the Arizona Republican immediately rejected the idea.
"I don't need to listen to that," said McCain, a decorated Navy pilot who was held prisoner in Vietnam, after watching a video of Spicer's rebuke Wednesday on a reporter's phone. "My record speaks for itself."
It's the latest dustup between the White House and McCain, 80, the chairman of the Senate Armed Services Committee, who has sparred with the Trump administration on assorted issues including Russia and trade policy. But Spicer's remarks also suggested the administration is trying to portray criticism of its military decisions as a broader attack on the U.S. armed forces.
Spicer said on Wednesday that the raid was "absolutely a success. And I think anyone who would suggest it's not a success does disservice to the life of Chief Ryan Owens. He fought knowing what was at stake in that mission. And anybody who would suggest otherwise, doesn't fully appreciate how successful that mission was, what the information that they were able to retrieve was and how that will help prevent future terrorist attacks."
Owens was killed in the raid, as was an eight-year-old U.S. citizen -- the daughter of former al Qaeda strategist Anwar al-Awlaki, an American killed in a U.S. drone strike in Yemen in 2011. McCain told reporters on Tuesday that the raid was a "failure" and later put out a clarifying statement saying he wouldn't describe it "as a success" because of Owens's death.
Asked about McCain specifically, Spicer added on Wednesday: "I think anybody who undermines the success of that raid, owes an apology and disservice to the life of Chief Owens."
First Casualty
The raid was the first counter-terrorism operation Trump approved as president, an attack on al Qaeda in the Arabian Peninsula carried out by the Navy's SEAL Team 6 that left other U.S. commandos wounded and killed 14 militants, according to the Pentagon. Owens is the first U.S. combat casualty since Trump's Jan. 20 inauguration.
Trump traveled to Dover Air Force Base to be with Owens's family when his body was flown home after the operation.
"While many of the objectives of the recent raid in Yemen were met, I would not describe any operation that results in the loss of American life as a success," McCain said in his Tuesday statement. "Going forward, I am confident that our military will act on lessons learned from this operation to strengthen our fight against our terrorist enemies."
Yemen's government on Wednesday denied U.S. media reports that it had ceased allowing U.S. forces access to its territory for counter-terrorism operations after the raid.
"The government of Yemen reiterates its firm position that any counter-terrorism operations carried out in Yemen should continue to be in consultation with Yemeni authorities and have precautionary measures to prevent civilian casualties," its U.S. embassy said in a statement.
Before it's here, it's on the Bloomberg Terminal.
LEARN MORE