Patel Shock Seen Luring Bond Bulls After $6 Billion Selloff
By and
Surge in Indian bond yields widens spread over U.S. Treasuries

'The room for capital gains just went up,' says Ashmore's Dehn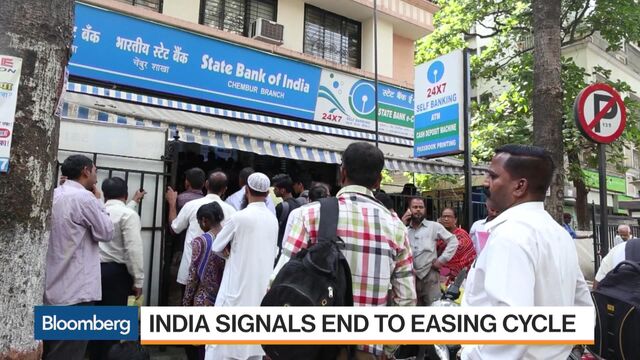 The biggest surge in India's benchmark 10-year bond yield since 2013 is seen luring foreign investors back to rupee-denominated debt after a four-month hiatus.
With authorities in Asia's third-largest economy unexpectedly keeping benchmark interest rates on hold and signaling an end to the policy easing cycle Wednesday, the 10-year yield surged 31 basis points. It rose another five basis points to 6.79 percent on Thursday, widening its spread over similar-maturity U.S. rates to 444 basis points, the highest since mid-November. India's rupee is the region's best performer over two days.
"The room for capital gains just went up," said Jan Dehn, the London-based head of research at Ashmore Group Plc, which oversees about $52 billion. "I like the bonds more now than before."
Foreign holdings of rupee-denominated government and corporate notes slumped 390.8 billion rupees ($5.8 billion) from October through January, as the yield differential between India and the U.S. narrowed. The policy panel led by Reserve Bank of India Governor Urjit Patel held the benchmark repurchase rate at 6.25 percent for a second straight meeting, after six reductions since the start of 2015. The move was predicted by just five of 39 economists surveyed by Bloomberg, with the rest forecasting a cut to 6 percent.

The "decision obviously caught the market off guard," said Ashley Perrott, who oversees about $3.5 billion as head of Asian fixed-income at UBS Asset Management in Singapore. "Higher yields may attract some investor interest if the market completely removes any easing being priced."
Strategists at Nomura Holdings Inc. and Standard Chartered Plc signaled the possibility of a further increase in Indian yields, already the second-highest among major Asian markets. Investors have lost 2.7 percent on rupee sovereign bonds since the end of November, after earning 17 percent in the first 11 months of 2016, according to indexes compiled by Bloomberg.
RBI's Patel said Wednesday that the non-food part of the consumer price index has been "sticky at 4.8 to 4.9 percent," and had it not been for a destruction of vegetables and other perishables due to the government's shock cash ban, the CPI would have been 140 basis points higher than the 3.41 percent seen in December.
The rupee has strengthened 0.6 percent since Feb. 7 to 66.9950 per dollar, taking its gain this month to 1.3 percent, the best in emerging Asia after South Korea's won.

"We believe the RBI's hawkish stance against CPI inflation can enhance foreign investors' confidence and interest in Indian high-yielding assets," Qi Gao, a Singapore-based foreign-exchange strategist at Scotiabank, wrote in a report Thursday. "That will provide support to the rupee in the medium term. We stay with our short dollar/rupee position with a target of 66.50."
Read: Top Rupee Analyst Says Buy After Best Budget-Day Gain Since 2010
A rate cut wouldn't serve the oil-importing nation well when rising commodity prices risk stoking inflation and uncertainty around U.S. policies threatens to unsettle the rupee, Mole Hau, a Hong Kong-based economist at BNP Paribas SA, the most-accurate forecaster of India's rate actions over two years, said earlier this month.
"The big message is the RBI is committed towards inflation and inflation expectations, which is very positive," said Rajeev De Mello, who oversees about $11.7 billion as head of Asian fixed income in Singapore at Schroder Investment Management Ltd. "With yields now higher, international investors will be interested in returning to Indian bonds."
Before it's here, it's on the Bloomberg Terminal.
LEARN MORE