This Is Why Investors Are Suddenly Worrying About Greece Again
By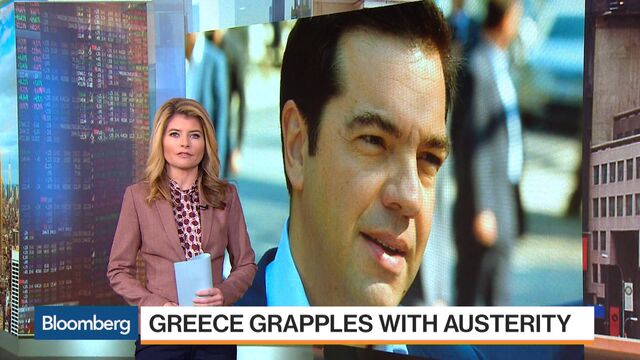 Greece is once again caught between the interests of its lenders and its own citizens. As part of a 2015 rescue package, Greece must meet strict fiscal targets to unlock more financial aid and keep the International Monetary Fund, an important creditor, involved. The IMF says the country won't meet those targets, touching off yet another global spectacle over the fate of Greece, the future of the euro area and the viability of the single currency.
1. What's the hullabaloo about now?
Same as it ever was. Greece's government, unable to borrow from bond markets at affordable rates, has relied for years on loans from Europe's bailout fund and the IMF to pay its bills. Those loans come with strict conditions, and the government and its creditors are arguing over whether Greece is fulfilling them. Investors are back on red alert and deadlines for a solution are again being floated and missed.
2. But wait, didn't Greece just get a huge bailout?
It got an 86 billion-euro ($91 billion) bailout in August 2015, the country's third (well, technically it was the fifth, but let's come back to that). That ended a period of great turmoil, leading the casual observer to think the Greek problem had been "solved." But the money doesn't get released at once. Away from the spotlight, the government and debt inspectors are in near-continuous talks about compliance with the conditions. Two are central to the current impasse: Greece must grow its budget surplus (before paying interest on its debt) to 3.5 percent of gross domestic product by 2018, and the IMF must be on board.
3. Didn't Greece agree to those conditions?
Yes, but the IMF didn't. Its officials have publicly said Greece should never have agreed to the 3.5 percent target because the austerity needed to meet it would cripple the economy. Unlike bailout auditors from the European creditor institutions, the IMF doesn't think the surplus will get above 1.5 percent unless Greece cuts pensions and raises taxes even more than it has done. Greece had little choice but to agree to loan conditions to stay in the euro. Euro-area governments were never forthcoming with the massive debt relief the IMF says Greece needs. Now, it's staring at further pension cuts and tax increases to get creditors' signoff on the latest bailout review.
4. Why are people talking about the IMF dropping out?
Perhaps it would be more correct to talk about the IMF getting on board. Technically, the IMF grants Greece separate bailouts that run in parallel to the European ones. There was one in 2010 and another in 2012, which expired at the end of 2016 (remember we said Greece is on its fifth bailout?) The fund didn't join the last European bailout, and hasn't lent any money to Greece in two-and-a-half years. As long as the 2012 program was still valid, it was possible to fudge the question of IMF involvement by deferring a decision to the next round of talks. Now that Greece is without an IMF program, that's no longer possible.
5. What do Greek officials say they can and can't do?
The last bailout review concluded in May 2016 with Greece adopting a so-called fiscal brake, which automatically reduces government spending if Greece falls short of its fiscal targets. The government seems willing to extend that mechanism, but refuses to legislate specific pension cuts. It also balks at IMF demands for a lower income threshold for when taxes must be paid, which Greece says would harm poorer households.
6. Hasn't Greece's financial situation improved, though?
Since the 2015 bailout, budget and economic growth have beaten projections. That's one reason Greek officials and European creditors are frustrated by the IMF's downbeat 2018 forecast. The IMF, however, thinks Greece's recent performance is unsustainable because the tax base is too narrow and high pension costs are too much of a drag. The fund wants Greece to adopt the tax and pension-program structural changes it seeks, even if the surplus target is reduced to a more realistic 1.5 percent, to avoid any more belt-tightening that could sap future economic growth.
7. What are the markets saying?
They don't like it. While it's nothing like the 2009 turmoil, when the debt crisis first broke out, or the havoc of 2015, bonds are falling again. The yield on 2019 notes -- offered in an April 2014 flagship sale that marked the country's brief return from market exile -- crossed the 10 percent threshold this month. It was below 4 percent in 2014, then climbed to as much as 37 percent in 2015.
8. Why does a deal need to happen before the end of February?
February's not a hard deadline, but pressure is building for progress toward a resolution at a meeting of euro-area finance ministers on Monday. After that, Europe enters a heavy election season, starting with Dutch elections in March. Helping Greece is unpopular among Europe's bailout-weary electorates. If there's no deal in February, reaching one after that won't get any easier.
9. What do Germany's domestic politics have to do with this?
Germany holds national elections in September. Finance Minister Wolfgang Schaeuble resolutely insists that, if the IMF doesn't come on board, that will void Greece's 2015 bailout. He's been equally adamant that Germany won't grant the kind of debt relief the IMF demands. Backing down from either stance could be politically costly.
10. Is this like 2015, when Greece almost defaulted?
Not yet. A debt default isn't imminent because Greece's coffers are full enough to service its debt. But without new loans, those coffers will empty. The country's bond-redemption schedule suggests that moment could come in July, just two months before the German elections.
The Reference Shelf
Before it's here, it's on the Bloomberg Terminal.
LEARN MORE