Warren's Speech Goes Viral After GOP Tries to Silence Her
By and
Democrat found to violate a rule against impugning a senator

McConnell stopped her as she quoted Coretta Scott King letter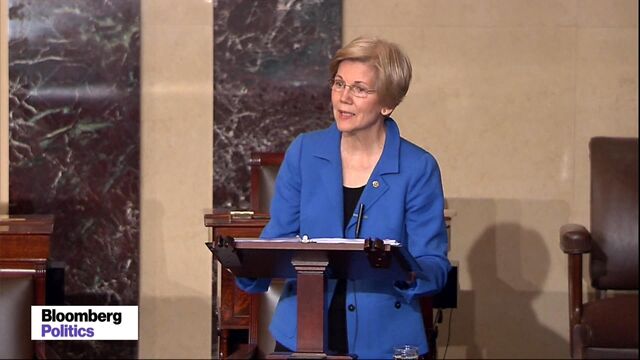 The move by Senate Republicans to bar Democrat Elizabeth Warren from the debate over President Donald Trump's attorney general nominee, Alabama Senator Jeff Sessions, backfired by generating an online sensation for the Massachusetts senator.
Warren was reading from a 1986 letter attacking Sessions by Coretta Scott King late Tuesday when Republicans invoked a little-used rule to prevent her from continuing. Warren quickly posted a Facebook video with her reading the letter outside the Senate chamber late Tuesday night that drew more than 6.5 million views by midmorning. Other Democrats joined in Wednesday morning, reading portions of the letter on the Senate floor without interruption.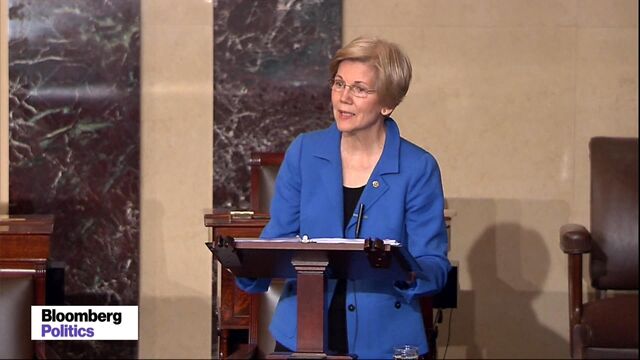 The Warren episode -- coming as Democrats held the Senate floor for more than 46 hours before the Republican majority is expected to push through the Sessions nomination -- marked a new low in a bitter Senate debate over Trump's Cabinet nominees. The process has been marked by Democratic techniques to delay votes and Republican accusations of rampant partisanship.
'Temperament, Fairness'
"Mr. Sessions's conduct as U.S attorney from his politically motivated voting fraud prosecutions to his indifference toward criminal violations of civil rights laws indicates that he lacks the temperament, fairness and judgment to be a federal judge," Warren said, quoting a letter from the late wife of slain civil rights icon Martin Luther King Jr., who was discussing the 1986 nomination of Sessions to the federal bench.
The nomination was blocked in the Senate Judiciary Committee over charges, denied by Sessions, of racially insensitive remarks and actions.
Warren's reading prompted objections from Majority Leader Mitch McConnell, who said she "has impugned the motives and conduct of our colleague from Alabama, as warned by the chair" of the chamber. Warren appealed a ruling from the Senate's presiding officer at the time, Steve Daines of Montana, that she must take a seat.
Even though it wasn't immediately clear that such rules had ever been invoked before during debate over a cabinet nominee, Republicans led a 49-43 vote to sustain the chair's ruling that she no longer take part in the floor debate. A more typical use of the rule came in 1979, when Senator John Heinz of Pennsylvania invoked the rule against fellow Republican Lowell Weicker of Connecticut for calling him "an idiot" and "devious."
Democratic leader Chuck Schumer of New York blasted Republicans for trying to silence Warren, saying that Republican leaders practiced "selective enforcement of a rarely used procedure."
"There is a shocking double standard here when it comes to speech," Schumer said Wednesday on the Senate floor.
But Republicans are largely sticking by the move. Lindsey Graham of South Carolina called it "long overdue," according his communications director, Kevin Bishop.
"I can't live with constant diatribes against decent people," Republican Orrin Hatch of Utah said in an interview on Bloomberg Television. ''I don't think you treat a fellow member like that."
With debate on Sessions scheduled to continue until Wednesday evening, those embracing Warren's cause included Tom Udall of New Mexico and Bernie Sanders of Vermont, who came to the floor Wednesday morning to read from King's statement that Sessions "used the awesome power of his office to chill the free exercise of the vote by black citizens."
Travel Ban
Trump's contentious travel ban applying to seven Muslim-dominated countries has intensified the Senate strife over nominations, particularly over the Trump's choice of Sessions, a close ally, to serve as the nation's top law enforcement officer.
Earlier Tuesday, Vice President Mike Pence had to cast a historic tie-breaking vote to confirm Trump's nominee to run the Education Department, Betsy DeVos, after two Republican senators joined every Democrat to oppose the pick.
Debate over Sessions was partisan and contentious even before Republicans silenced Warren.
"Can we really expect him to be an attorney general who is independent from President Trump? I do not think so," Senator Dianne Feinstein of California, the top Democrat on the Judiciary Committee, said during floor debate. "Now, more than ever, it is clear how important it is that the Department of Justice be independent from the president."
The No. 2 Democrat in the Senate, Dick Durbin of Illinois, said Trump's travel ban and his decision to fire Acting Attorney General Sally Yates because she refused to enforce the ban show that Trump is bent on testing the constitutional separation of powers.
However, Graham came to Sessions' defense on the floor. "I don't believe for one second that Jeff Sessions as attorney general of the United States will take any of his political positions and jam them down your throat if the law says no," Graham said.
Parliamentary Maneuvers
McConnell's move against Warren set off lengthy parliamentary wrangling on the Senate floor, with Democrats incensed that Republicans were shutting down debate and Republicans angry that Democrats, and in particular Warren, had attacked Sessions personally.
Republicans cited Senate Rule XIX, which states "no senator in debate shall, directly or indirectly, by any form of words impute to another senator or to other senators any conduct or motive unworthy or unbecoming a senator."
Democratic Senator Sheldon Whitehouse of Rhode Island inquired what, exactly, they would be allowed to say about a colleague up for Senate confirmation. The chair made clear that truth is not a defense in the case of Rule XIX, and the ruling is made by the chair, not by the parliamentarian. The ruling can then be appealed to the full Senate.
Hatch, who chairs the Senate Finance Committee, dressed down Warren and the broader Senate for what he considered to be a clear breach of decorum.
Hatch said it was "offensive" to him to see a fellow senator attacked on the Senate floor, referring to Sessions. "Think of his wife," he said on the Senate floor Tuesday night.
"We have to treat each other with respect or this place is going to devolve into a jungle," Hatch admonished.
'Selective Enforcement'
But Schumer said that Rule XIX could be invoked any day, and was being selectively enforced. He questioned why they couldn't simply allow a reading of a letter from Martin Luther King Jr.'s wife.
"This is selective enforcement and another example of our colleagues on the other side of the aisle escalating the partisanship and further decreasing comity in the Senate," he said.
Trump signaled his own frustration on Tuesday night about the wait to get his nominees confirmed. "It is a disgrace that my full Cabinet is still not in place, the longest such delay in the history of our country. Obstruction by Democrats!" the president said on Twitter.
Warren made clear late Tuesday night that she would keep speaking out about Sessions.
"I will not be silent about a nominee for attorney general of the United States who has made derogatory and racist comments that have no place in our justice system," she wrote to supporters in an e-mail.
The chairman of the Congressional Black Caucus issued a statement late Tuesday blasting Senate Republicans.
"Republican senators' decision tonight to silence Coretta Scott King from the grave is disgusting and disgraceful," said Representative Cedric Richmond, a Louisiana Democrat.
Before it's here, it's on the Bloomberg Terminal.
LEARN MORE