GOP Shrugs at Price's Stock Trades in Bid to Confirm Trump Picks
By
Democrats have criticized HHS nominee's health-care stock buys

Several Trump nominees have prompted questions about ethics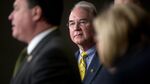 Tom Price is on a glide path to win Senate confirmation later this week as Health and Human Services secretary, where he would lead President Donald Trump's effort to undo Obamacare, even as Democrats insist he still needs to answer questions about his stock trades.
Senate Republicans have brushed off concerns raised by Democrats that Price, a Republican representative from Georgia, purchased stock in a few health-care companies and may have been financially motivated to develop or vote in favor of legislation that would benefit those businesses.
"Tom obeyed the law," said Johnny Isakson, a Georgia Republican and Price's lead backer in the Senate. "It's simply a wrongheaded and unfair approach by Senate Democrats to discredit him."
Republicans hold a 52-seat majority in the Senate, which means Democrats can't block Price if the GOP holds together behind him. The Price nomination is particularly important for Republicans and the Trump administration, since they're counting on him to begin dismantling Obamacare and devising a replacement plan. In some ways, those high stakes make his nomination too big to fail.
Democrats have raised ethical concerns about several of Trump's nominees, including issues that have forced nominees from previous presidents to withdraw. Republicans are pushing forward with the nomination of Representative Mick Mulvaney to lead the Office of Management and Budget, even though he acknowledged failing to pay more than $15,000 in federal payroll taxes for a nanny who worked 40 hours a week. The GOP is also so far sticking by Andy Puzder's nomination as labor secretary, even though he acknowledged employing an undocumented immigrant as a housekeeper.
'Bulletproof' Republicans
"What disqualified Democratic nominees apparently is not a problem for many Republican nominees," Dick Durbin, the No. 2 Senate Democrat, said Tuesday. "They seem to be bulletproof when it comes to ethical issues," he said. 
Price has said his actions were within the law. 
But Senate Minority Leader Chuck Schumer called Price the "most ethically challenged" Trump cabinet pick, and said Price could be successfully tried for violating the law.
"If I were a prosecutor, I'd say this case has real potential," Schumer said Wednesday at a news conference.
There are echoes of another HHS nominee, former Senate Democratic leader Tom Daschle, who withdrew as then-President Barack Obama's cabinet pick in 2009 because of questions surrounding his belated payment of more than $128,000 in federal taxes. At the time, Democrats were counting on Daschle to lead the charge to overhaul the health-care system.
When Daschle's tax issues came to light, Republicans pressed for more information. "This is a legitimate issue; we need some answers," Senator Susan Collins, a Maine Republican, said on CNN days before Daschle withdrew his name. Democrats defended him and were shocked when he stepped down. At the time, nominees needed 60 votes to advance to confirmation, but Democrats lowered that threshold to 50 in 2013.
This time around, as Democrats did with Daschle, Republicans are maintaining their support for Price. A final vote on his confirmation could come late Thursday or early Friday.
Discount Price
Democrats have homed in on discounts that Price received when investing in the Australian company Innate Immunotherapeutics Ltd. They've also raised questions about his investing in a medical-supply distributor and later introducing legislation that could have benefited the company. Price has said that a broker directed the trades independently, although in the case of the medical-supply company, congressional records show he was notified about the purchase before the bill's introduction.
"With Price, there are some serious questions," said Lawrence Noble, general counsel at the Campaign Legal Center, a nonpartisan group in Washington. "That's not to say he should or shouldn't be confirmed. You can't really make that decision unless you resolve the various issues he's had with his stock."
Price's actions don't appear to be illegal, said Donna Nagy, executive associate dean at the Indiana University Maurer School of Law. Members of Congress are barred from insider trading by a 2012 law, but rules related to their holding stock in companies that could be affected by their decisions are less strict than those that prevent federal judges and executive branch officials from doing the same.
Conflict of Interest
Even so, Nagy said, Price's trades raise a clear conflict of interest.
"His personal stock holdings put his motivation into question," she said.
Senate Democrats once again called Monday for the Securities and Exchange Commission to investigate Price's financial dealings. The SEC has a policy of not confirming or denying the existence of ongoing probes.  
"Under the Senate Finance Committee's vetting process nominees are required to disclose if they are currently being investigated by a federal agency," Julia Lawless, a spokeswoman for Senate Finance Chairman Orrin Hatch, said in a statement. "This was an issue that was discussed during the internal vetting process as well as at the hearing and Dr. Price has been clear and concise with his answers."
Democrats boycotted the Senate Finance Committee's vote to advance Price on Jan. 31 to try to get more information on his Innate investment first. Instead, the panel changed its rules the following day to allow members to vote without Democrats there and sent Price's nomination to the Senate floor.
Price has said that a broker directed all of his investing, except for his purchases of Innate shares. He learned about that company and the special stock offering through Innate board member and fellow Representative Chris Collins of New York. Price has said he wasn't aware he received a deal and that the price was available to all other investors, even though he was included in a stock offering made only to a small group.
— With assistance by Bob Van Voris, Terrence Dopp, Laura Litvan, and Benjamin Bain
Before it's here, it's on the Bloomberg Terminal.
LEARN MORE