Style
Forget the White House, Joe Biden Is All About The Hoodies
His daughter has a new clothing line aimed at helping communities in Washington and Delaware.
By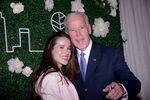 Joe Biden may have been dressed in a suit and tie, but on Tuesday night he was all about the hoodies.
The former vice president and Jill Biden greeted a throng of partygoers in Manhattan celebrating the launch of their daughter Ashley Biden's new clothing label, chatting and posing for photographs. Ashley, 35, a light pink hoodie draped over her dress, bolted around to answer questions about the charitable project.
Called Livelihood, it's a collaboration with online fashion seller Gilt Groupe. The minimalist pullovers and zip-ups come in various colors, with all net proceeds slated for community initiatives, starting with a pair of neighborhoods in their home state of Delaware and the District of Columbia. They're manufactured in the U.S., from fabric to zipper, and cost between $79 to $99.
"The timing couldn't be more perfect," Ashley said in an interview, alluding to protests roiling cities in the aftermath of the presidential election. "When the country feels so divided, I feel we need things to unite around."
One such issue is social justice, which as Ashley sees it shouldn't be viewed as a partisan topic. Her brand isn't supposed to be political, though she admits her family name will always carry a certain preconception–you can't simply forget that her father is a liberal icon. 

Why hoodies? Well, it's an article of clothing that's symbolic of the labor movement and, more recently, activism for racial justice. An unarmed Trayvon Martin was wearing a hoodie in 2012 when he was shot and killed, spurring activists to latch on to it as an emblem of protest, including demonstrations like the Million Hoodie March. Ashley said hoodies are universal, worn by all of races and ages, from construction workers to students.
The idea came about last June, at an award show celebrating both Joe Biden and Jerry Storch, the chief executive of Gilt parent Hudson's Bay Co. Gilt has done charitable collaborations before with such celebrities as Lady Gaga and Jessica Alba.
Joe Biden, for his part, has never been a fan of sweatshirts or hoodies, according to his daughter. While he doesn't have an official role within Livelihood (he has his own foundation and a new gig at the University of Pennsylvania to occupy his time), he said the project's funds will go toward improving people's day-to-day life. The clothing line also touts an interactive website that encourages people to get involved in their communities.
"I've been fighting for income equality for my entire career in public life and I can tell you that, along with a tax code that reflects our mutual responsibility to each other, education and infrastructure are two in particular that are critical," he said. "Good schools where kids can get an education that will set them up for a successful life and parks and communal spaces where families can send their kids and know they will come home safe are some of the fundamental building blocks of a strong community."
At the event on Tuesday, the former vice president delivered a speech praising the value of his daughter's social justice work. Ashley took the stage afterwards, giving an emotional, tearful tribute to her brother Beau, who died in 2015 after a battle with brain cancer. As for Livelihood, she hopes this first apparel collaboration is just the start.
"If it goes well, I think we're full steam ahead," said Ashley. "I have lot of ideas, and I'm scared to tell you. I don't want anybody to take them."
Before it's here, it's on the Bloomberg Terminal.
LEARN MORE