Boeing Wins $13.8 Billion Deal in Boost to Newest 787 Dreamliner
By , , and
Singapore Air upgrades fleet with more fuel-efficient planes

Order adds as many as 51 787-10, 777X jetliners over decade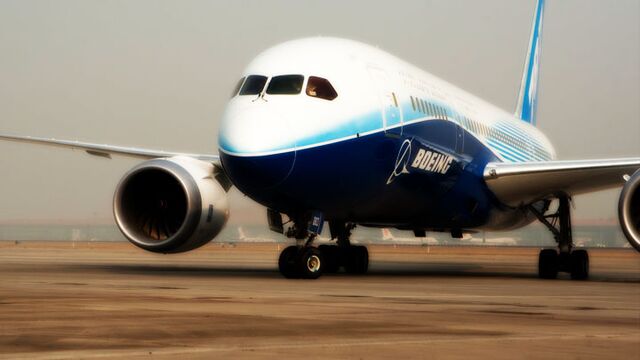 Boeing Co. won a deal for 39 long-range aircraft from Singapore Airlines Ltd. as the airline upgrades its fleet over the next decade with more fuel-efficient models and doubles down on the planemaker's newest 787 Dreamliner.  
The carrier, which is the launch customer for the 787-10, signed a letter of intent for an additional 19 of the Dreamliner variant ahead of the jet's public unveiling as early as next week. Singapore is also ordering 20 777-9s, which are set to debut at the decade's end. The deal is valued at $13.8 billion at list prices that don't reflect customary discounts, Singapore said in a statement Thursday.

The order gives a boost to Boeing's largest, most expensive and slowest-selling 787 Dreamliner. Boeing has garnered 149 total orders for the -10, which retails for $306.1 million each. Southeast Asia's leading long-distance carrier is known as a shrewd buyer and its fleet decisions influence other airlines, said Jefferies analyst Howard Rubel.
"The carrier is a demanding customer, and its fleet decisions usually define market trends in the intermediate term," he wrote in note to investors. "It probably underscores the airline's confidence in the company's ability to deliver the plane's operating efficiencies."
Important Endorsement
Boeing also gains an important endorsement for its upgraded 777, the first twin-engine plane built to haul more than 400 passengers. The Chicago-based company has redoubled 777X sales efforts after twice announcing it would cut output of current models. The new aircraft will replace some of Singapore's aging wide-bodies, including its A380 superjumbo jets from Airbus Group SE, Rubel said.
Deliveries of the jets will start as early as in the financial year ending March 2021, according to Singapore. The airline also holds purchase rights that could bring the order total to 51 aircraft.
The carrier has also reviewed a proposed, longer version of the twin-engine 777 that would carry as many as 450 passengers, a behemoth aimed at delivering a knock-out blow to the Airbus A380, Bloomberg News reported Wednesday.
Boeing's shares rose less than 1 percent to $164.59 at 11:40 a.m. in New York. Singapore's stock advanced 1.4 percent to close at S$9.94 in Singapore, before the order was announced.
Business Travelers
Singapore has ordered 67 of Airbus's A350-900 jets, including an ultra-long range version, as it courts business travelers with nonstop service to markets such as New York and Los Angeles. The Asian carrier's fleet includes 10 A350s, with 57 more on order. The airline already has 30 787-10s on order.
Buffeted by marquee Middle Eastern peers such as Emirates and regional budget operators, the only Asian carrier to have flown the supersonic Concorde has said it will maintain vigilance over costs. Singapore Air, following two consecutive quarters of decline in profits, said Tuesday that 2017 will be another challenging year amid "tepid global economic conditions and geopolitical concerns."
The 787-10 is the first Boeing jetliner to be manufactured solely at a new North Charleston, South Carolina, campus. Deliveries are expected to start next year. Singapore's unit Scoot flies the carbon-composite 787-800 and 787-900 variants of the Dreamliners.
— With assistance by Kyunghee Park
Before it's here, it's on the Bloomberg Terminal.
LEARN MORE