Statoil Ready to Boost Spending Again After Slashing Costs
by
Spending could reach $14 billion by 2020 after bottoming

Norwegian company says cash flow now neutral at $50 a barrel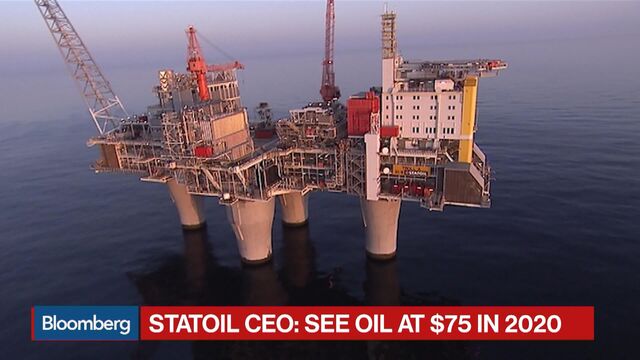 Statoil ASA, Norway's biggest oil company, is ready to increase investment again as it reaps the benefit of drastic cost reductions it pushed through after oil's collapse -- cuts that it vowed to deepen even further.
After slashing investments by half in two years to $10 billion in 2016, the company plans to spend $11 billion in 2017 and $12 billion to $14 billion in each of the three following years, Chief Financial Officer Hans Jakob Hegge said in an interview at the company's capital markets day in London. The increase will come even as Statoil lowered its long-term oil-price assumptions and warned that market volatility will continue in the short term.
Looking past a third straight quarterly loss that took the market by surprise, the state-controlled company said it can now fund investments and dividends with cash from operations at $50 a barrel for oil -- lower than benchmark Brent has traded this year.
"You should never waste a good crisis," Chief Executive Officer Eldar Saetre said during a press conference in London. "Statoil is emerging from downturn as a stronger and much more competitive company."
Statoil followed Royal Dutch Shell Plc and Exxon Mobil Corp. in saying it can finally have cash to spare even with oil prices at less than half of what they were in the boom years that ended in 2014, signaling that the worst of the industry's deepest downturn in a generation may be in the past.
Leaner Operation
Since 2014, Statoil has delayed projects, reduced its workforce and increased debt as it maintains shareholder payouts. At the same time, efficiency improvements and lower rates from suppliers have reduced the cost of new projects -- in some instances by more than half.
The company is targeting another $1 billion of cost savings this year and more in 2018 after beating its own target for last year by almost a third. It has lowered the break-even price for five projects starting up in the next five years to an average of $27 a barrel. Its giant Johan Sverdrup field now breaks even at less than $25 a barrel, while the Johan Castberg field in Norway's Arctic will turn a profit at $35 a barrel, compared with the $80 estimated just a few years ago.
"The next phase for us is to go from an improvement-project mode to a culture where we continuously improve," Saetre said. "We are well on our way."
Earnings Disappoint
Yet, Statoil shares closed down 3.1 percent in Oslo trading, the most in more than two months, after the company reported an adjusted net loss of $40 million in the fourth quarter compared with an average analyst forecast for a $618 million profit. The company took a $2.3 billion impairment "mainly due to reduced long-term price assumptions with the largest effect being on unconventional onshore assets in North America," it said.
The company kept its dividend at 22 cents a share for the fourth quarter, with a scrip program allowing owners to be paid in shares. Statoil expects to keep payouts at the same level for the next three quarters, Saetre said in an interview on Bloomberg Television.
Net debt to capital employed increased to 35.6 percent at the end of the fourth quarter from 30.3 percent three months earlier, partly because of the acquisition of a Brazilian oil field.
Statoil raised its output target for 2017 to an increase of 4 percent to 5 percent, while predicting organic annual production growth of about 3 percent from 2016 to 2020. Exploration spending in 2017 will be about $1.5 billion.
Before it's here, it's on the Bloomberg Terminal.
LEARN MORE