South Korea Seeks to Avert Trump Criticism of Free Trade Pact
by and
Trump had criticized Korea FTA as destroyer of U.S. jobs

U.S. trade accord with Korea was biggest since NAFTA in 1994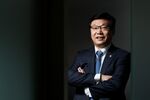 South Korea's trade minister said his country will seek to explain the benefits of its free-trade agreement with the U.S. to the Trump administration, as the pact enacted in 2012 comes under fresh scrutiny.
U.S. President Donald Trump has already ditched a broader Pacific pact that was not yet ratified by Congress and chided South Korea's neighbors Japan and China for their trade policies, raising concern its agreement could come into his cross-hairs. Japanese Prime Minister Shinzo Abe is meeting Trump in the U.S. later this week in part to defuse tensions over trade.
During his campaign, Trump called the accord with Seoul -- the biggest for the U.S. since the North American Free Trade Agreement took effect in 1994 -- a destroyer of U.S. auto industry jobs. He hasn't said if he plans to abolish the FTA outright. The countries can agree in writing to amend the deal, while terminating it would require a six month notice period.
South Korea will push back against protectionism, minister Joo Hyung-hwan said in a statement on Tuesday announcing a new committee that will draft measures to help the auto industry. The government "will dispel the U.S.'s misunderstanding on the effectiveness of the U.S.-Korea FTA by explaining the growth of exports of U.S. vehicles to Korea and job creation as a result of Korean companies' investments," he said.
Since 2011, when the agreement was ratified by lawmakers, trading volume between the nations increased by 15 percent, while global trading volume fell 10 percent, Joo said in November. The pact prompted Korean companies to invest more in the U.S., the minister said, adding Korean companies hired 45,000 U.S. workers in 2015, up from 35,000 in 2011.
The U.S. was South Korea's largest trading partner after China in 2015, with total trade of $116 billion, while South Korea was the U.S.'s sixth-biggest trading partner, according to data compiled by Bloomberg.
Despite the pact, the overall U.S. trade in goods deficit with South Korea widened 60 percent to $26.5 billion in 2016 from $16.6 billion in 2012, according to the U.S. Census Bureau. And the automotive sector, as in Japan, remains one of the biggest points of trade tension between the countries.
Walking Away
South Korea argues that automobiles are a small fraction of total exports to America. The country sent 964,432 vehicles there in 2016, down 9.5 percent from the previous year, according to the Korea Automobile Manufacturers Association. Imports of U.S. cars rose 22 percent to 60,099 units, it said.
If Trump wants to walk away from the pact he can, said Kim Jong-hoon, a former Korea trade minister who was a key negotiator on the deal. Still, "in reality it's hard for any government to push for amendments or termination of a trade agreement alone without backing by lawmakers."
Data from the past five years show the deal helped both nations, he said, adding the U.S. trade gap with Korea "isn't even comparable" to that of countries like Mexico and China.
In a preemptive move to address Trump's criticism, Hyundai Motor Co. and affiliate Kia Motors Corp. announced last month an investment of $3.1 billion in the U.S. over the next five years, about 50 percent more than the $2.1 billion they spent in the previous five-year period.
U.S. Factories
Automakers including Toyota Motor Corp., Ford Motor Co. and Fiat Chrysler Automobiles NV have said they'll spend on U.S. factories in response to pressure from Trump to create jobs in America. Toyota will invest $10 billion in the U.S. over the next five years, maintaining its pace of spending during the last half decade.
South Korea's largest automaker has warned of increasing uncertainties from protectionism and competition. Hyundai Motor will continue to monitor the policies of Trump's administration, which are expected to put pressure on countries that have trade surpluses with the U.S., Koo Zayong, a vice president at the automaker, said on Jan. 25, after the company reported a decline in quarterly earnings.
If U.S. tariffs on Korean goods are restored to pre-FTA levels, Korea could lose $13 billion in exports to the U.S. and shed 127,000 jobs in the three years to 2020, according to a January report from Hyundai Research Institute.
The auto industry committee, to be made up of government officials, academics and representatives from local automakers, will also address challenges such as those brought by electric and autonomous vehicles, according to the statement. The ministry will offer incentives on electric vehicles and support research and development on autonomous driving technology, it said.
Before it's here, it's on the Bloomberg Terminal.
LEARN MORE