Romania Political Crisis Deepens as President Slams Ruling Party
By and
Cabinet's U-turn is 'too little' in face of massive protests

Parliament passes 2017 budget, while central bank holds rates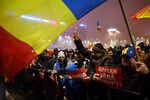 The political turmoil that's engulfed Romania deepened as President Klaus Iohannis attacked the ruling party for not doing enough to stem the biggest protests since the fall of communism.
While early elections would be "too much," Iohannis told parliament the government's reversal of controversial measures seen as weakening anti-corruption efforts and the possible dismissal a minister are "too little." Social Democrat leader Liviu Dragnea ruled out seeking a suspension of the president and said he hopes "peace" can be found. While party lawmakers walked out during Iohannis's address, they later approved the 2017 budget.
The president has sided with the hundreds of thousands of protesters who've flooded streets across the European Union and NATO member nation in the biggest display of defiance since the 1989 uprising that ousted dictator Nicolae Ceausescu. Before it backtracked, Romania's third government in two years had incurred public fury by unexpectedly easing punishments for officials who abuse their positions and seeking to free others from prison.
The nation is "very unsatisfied," Iohannis, who still wants a referendum on overhauling the criminal code, told lawmakers Tuesday in Bucharest. "What can we do to get out of this deadlock? You won the election and now you must govern but not in any way. Romania needs a strong government, not one that timidly obeys party orders."

Dragnea, who's repeatedly backed the cabinet, told reporters later that he expected a "more conciliatory speech" from the president. While Prime Minister Sorin Grindeanu faces a no-confidence motion Wednesday in parliament, the Social Democrats' dominance should allow them to defeat it. Grindeanu has said he may fire Justice Minister Florin Iordache, who presented the cabinet's plans to the public originally.
The political tensions weren't enough to prevent passage of this year's budget, which contains tax cuts and public-salary hikes that formed the basis of the Social Democrats' election victory in December. Earlier, the central bank held its benchmark interest rate at a record-low 1.75 percent for a 14th meeting after the demonstrations boosted currency volatility.
"There's a chance that political events over the past few weeks could cause policy makers to become worried about the leu," London-based Capital Economics Ltd. said in a research note. But the bigger concern "is the prospect of loose fiscal policy feeding into mounting price pressures over the course of this year."
While protests persisted Monday, extending to a week, the 40,000 turnout nationwide was well down from the previous evening's record of 600,000 people. The demonstrators are concerned the government is seeking to derail a four-year corruption clampdown that's ensnared top officials, including an ex-Social Democrat premier.
"If the ruling party doesn't solve the crisis fast, I'll call talks with parties to find ways to do so," Iohannis said. "We must keep our democracy alive and our country clean."
Before it's here, it's on the Bloomberg Terminal.
LEARN MORE