Merkel Welcomes Trump's Signals of Support for NATO
By and
German chancellor cites 'important' statements from Washington

Differences on trade to be addressed 'step by step': Merkel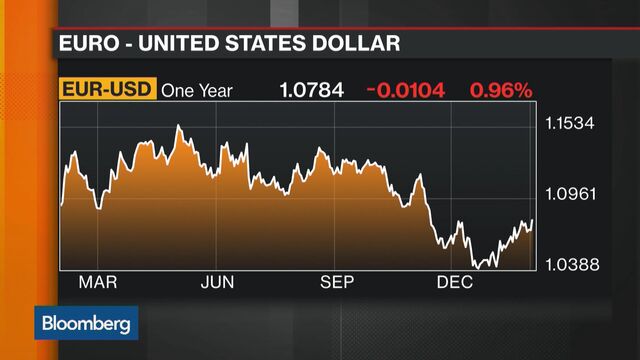 German Chancellor Angela Merkel said she was encouraged by the Trump administration's signals of support for trans-Atlantic military ties, though defending free trade will be a work in progress.
U.S. President Donald Trump this week expressed "strong support" for the North Atlantic Treaty Organization after a call with NATO Secretary General Jens Stoltenberg. German Foreign Minister Sigmar Gabriel, who met Vice President Mike Pence and Secretary of State Rex Tillerson in Washington last week, said he also received assurances of the U.S. commitment to the alliance.
"What we've heard from various levels, from the president, but also the defense and foreign ministers, in terms of NATO are, I think, very important declarations," Merkel told reporters in Warsaw on Tuesday after talks with Polish Prime Minister Beata Szydlo.
European leaders, particularly on the region's eastern flank, had bristled at Trump's earlier comments disparaging NATO, fearing that an assertive Russia could exploit weakened ties with the U.S. Merkel has particularly warned about a shift to protectionism as the U.S. administration backs off multilateral trade agreements.
Even if the trans-Atlantic commitment to security can be maintained, Merkel said Europe will have to adapt to uncertainty on other issues, especially trade.
"For everything else, we'll establish what kinds of possibilities and situations we'll have step-by-step in terms of free trade," Merkel said in Warsaw.
Gabriel told broadcaster ARD after his Washington visit that Pence and Tillerson spoke in favor of a united Europe and a "trans-Atlantic partnership in NATO." The foreign minister also said the U.S. administration embraced the German-French effort to mediate talks between Russia and Ukraine to end the crisis in eastern Ukraine, known as the Minsk accord.
Russia Sanctions
Merkel said the European Union has no scope to scale back sanctions against Russia for its intervention in Ukraine's Donbas region as long as the elements of the Minsk agreement negotiated two years ago in the Belarusian capital aren't put into place.
"The situation is unsatisfactory," Merkel said. "Minsk isn't being implemented, and so the sanctions can't be lifted at the moment."
Before it's here, it's on the Bloomberg Terminal.
LEARN MORE