Material World: Why There's No Excuse Not To Buy Better Underwear
By and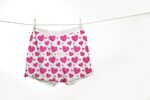 Subscribe to Material World on iTunes Podcasts
Subscribe to Material World on Pocket Casts 
Every other week, hosts Jenny Kaplan and Lindsey Rupp guide you through the consumer universe, breaking down what's going on with all the things people buy.
Material World is taking a look at the basics -- underwear. Technology and innovation has infiltrated the rest of your closet. Now, entrepreneurs say it's time to upgrade your underwear drawer. There's plenty to pick from: The global men's underwear market is expected to expand to $11 billion in 2020 from $8.4 billion in 2015, according to Persistence Market Research. That 31 percent jump dwarfs the expected 14 percent growth in the overall men's apparel market to $33 billion in 2020, according to Edited. Jenny and Lindsey talk with the founders of My Pakage and Tommy Johns, mens' brands, and Thinx, the so-called period underwear, to explore trends driving this market. Plus, they host a consumer-expert panel to find out if the new products actually live up to the hype.
Read more: High-tech men's underwear at $70 disrupts sleepy $8 billion category
Before it's here, it's on the Bloomberg Terminal.
LEARN MORE