Cooperman's Lawyer Says He Faced Parallel Criminal Inquiry
by
Hedge-fund manager contests SEC insider-trading allegations

Federal judge won't immediately toss out regulator's lawsuit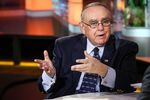 Billionaire Leon Cooperman invoked his Fifth Amendment right against self incrimination and declined to answer questions from the SEC about alleged insider trades because he faced a related criminal investigation by the U.S., his lawyer said.
The U.S. Securities and Exchange Commission sued Cooperman, accusing the hedge-fund manager of reaping $4 million in profits after conversations with a company insider. Cooperman had allegedly promised he wouldn't use the information, regulators said.
The remark by Cooperman's lawyer came during a hearing Tuesday in Philadelphia federal court in which the hedge fund founder sought to have the SEC case dismissed. Mark Sylvester, a lawyer for the SEC, told U.S. District Judge Juan Sanchez that Cooperman had refused to be questioned by regulators before they filed their complaint last year. Cooperman's lawyer, Ted Wells, countered that Cooperman had been merely following his instructions.
"Mr. Cooperman had asserted Fifth-Amendment right before the commission because, at the time I advised him, there was a parallel criminal investigation," Wells said. "He made clear he wanted to testify, but for my advice that there was a parallel case."
William Skaggs, a spokesman for the office of New Jersey U.S. Attorney Paul Fishman, said it was his office's policy to neither confirm nor deny the existence of any investigation. Wells declined to comment when asked if Cooperman still faced a criminal inquiry.
For more on the legal questions raised by Cooperman's case, click here
Cooperman, chief executive of Omega Advisors Inc., hasn't been charged with criminal wrongdoing. He was sued in September by the SEC, which accused him of using his status as one of Atlas Pipeline Partners GP LLC's largest shareholders to obtain confidential information. The SEC says Cooperman got the tips from a company executive during three telephone calls in July 2010. The SEC alleges Cooperman violated securities laws when he obtained the nonpublic information then promised not to use it. 
Cooperman's lawyers argued Tuesday that he was under no obligation to refrain from trading after the calls because any purported promise came after the information was disclosed by the insider.
"You may have broken your promise not to trade, but you haven't misappropriated," said Daniel Kramer, a lawyer for Cooperman. "Not every broken promise is fraud."
Bridget Fitzpatrick, a lawyer for the SEC, said the case should proceed to trial, saying Cooperman was pursuing an "astounding theory" and attempting to create a "new loophole" in securities laws by claiming he had no duty to refrain from trading after the calls. She said Cooperman could have told the insider he intended to trade but chose not to divulge it.
"They come forth with a very clever argument that gives him a free pass for deception," she said. "The statute prohibits deceptive conduct." 
"You'd be the first court in adopting the defendant's argument," Fitzpatrick said. "It would be an astounding opinion."
Sanchez didn't immediately issue a decision on the request, saying, "I'm going to be all alone" as the first federal judge to consider such a question.
The case is SEC v. Cooperman, 16-cv-5043, U.S. District Court, Eastern District of Pennsylvania (Philadelphia).
Before it's here, it's on the Bloomberg Terminal.
LEARN MORE