Greek Two-Year Yields Approach 10% Amid IMF Standoff With EU
By and
Yield on flagship 2019 notes reaches highest since September

Differing views on Greek program seen also within the fund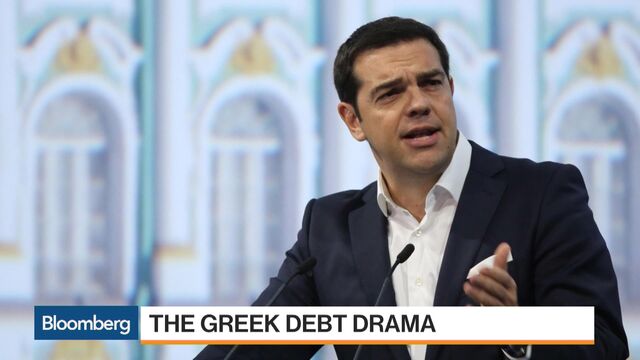 Greece's two-year note yields neared 10 percent as a quarrel between the nation's creditors over its fiscal targets boosted concern the country is running out of time to complete yet another review of its bailout program before Europe gears up for a busy election season beginning in March.
Yields on Greece's notes due in 2019 rose 84 basis points to 9.77 percent as of 3:10 p.m. in Athens, the highest since September. The notes were sold in April 2014 as part of a series of flagship sales that marked Greece's brief return from market exile.

Greece won't meet fiscal surplus targets set by its euro-area creditors, the International Monetary Fund said on Monday, after executive directors met to discuss the fund's annual assessment of the nation's economy. The IMF's assumptions aren't based in reality and don't take into account the reform of Greece's public finances, according to a European Union official who spoke on condition of anonymity because the discussions are sensitive.
The impasse is the latest in a long line of disputes that have buffeted Greek securities since the nation regained market access. While the nation's bonds trade with thin volumes and have a largely specialized investor base, flare-ups in its debt talks have previously spilled into other markets, spurring increased volatility.
The yield on the 2019 notes, which was below 4 percent in 2014, climbed to as much as 37 percent in 2015, when failed negotiations led to a referendum that threatened Greece's position in the euro-area.
Creditor Talks
"It all hinges on talks with creditors which is typically a very difficult type of risk to price for investors," Antoine Bouvet, Mizuho International interest rates strategist said by e-mail. "It is possible to imagine that some investors prefer waiting for the uncertainty to be resolved before re-investing this market."
The talks with creditors for the completion of the second review of its 86 billion-euro ($92 billion) bailout program have stalled over significant differences between the IMF and euro area on projections for Greece's economy, targets and debt sustainability. A deal between creditors is needed by a meeting of euro-area finance ministers in Brussels on Feb. 20, before the Dutch elections on March 15. After that, reaching a deal could become even trickier.
For more on the IMF's dispute with the EU, click here.
Greece will only agree to bailout measures that are socially sustainable and will allow the country's bonds to be admitted to the European Central Bank's Quantitative Easing program, government spokesman Dimitris Tzanakopoulos told reporters in Athens on Tuesday. The IMF is causing needless delays, and the government will take initiatives in the coming days to try to bridge the differences between the sides, he said.

An ECB spokesman pointed to comments by Mario Draghi on Monday, declining to comment further. "There is no intention to revise" the terms of restructuring, Draghi said. If the ECB is going to buy Greek debt "first of all we have to address issue of debt sustainability."
— With assistance by Adrian Krajewski, Sotiris Nikas, Marcus Bensasson, and Andrew Mayeda
Before it's here, it's on the Bloomberg Terminal.
LEARN MORE