Walesa Says People Must Prepare for Populism Breaking EU Apart
By and
Nobel lauerate says Le Pen win, Merkel loss would split EU

Former Polish president says populists are waking 'demons'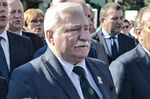 The man who helped bring down communism and reunite Europe is now warning of the bloc's disintegration.
Lech Walesa, the Gdansk shipyard electrician whose mass movement Solidarity helped tear down the Iron Curtain in 1989, said a win by Marine Le Pen in French presidential elections coupled with the loss of Chancellor Angela Merkel in the German parliamentary ballot this year would pull apart the European Union 60 years after the bloc's inception.
"If Le Pen wins and Merkel loses, then the EU will fall apart," Walesa said in an interview in Bogota, Colombia, on Feb. 3. "We have to be ready for this."
Walesa, 73, quit day-to-day politics after failing to win reelection as Poland's first president in 1995 and is still fighting allegations he cooperated with the communist security services in the 1970s. He has long advocated changes in the EU after the bloc admitted Poland and other formerly communist nations in 2004, creating the world's biggest trading area and triggering some of the migration movements which fueled anti-EU sentiment in the U.K. before it's referendum on leaving the block last year.
Asked about the rise of Donald Trump, Walesa told reporters that such elections happen when people don't take "good care of democracy," aren't active and don't engage with voters about their country's most pressing issues.
Read more: A QuickTake explainer on populism in Poland
"We'll either start taking democracy and freedom seriously, or Trump and his political allies will show us what doesn't work and what needs to change," Walesa said. "Demons are being awoken and unless we start working to resolve this, the street and the populist demagogues who run it will take charge."
Before it's here, it's on the Bloomberg Terminal.
LEARN MORE