Food
Paul Ryan Makes a Mean Meatloaf
Home cooking for these divided times.
By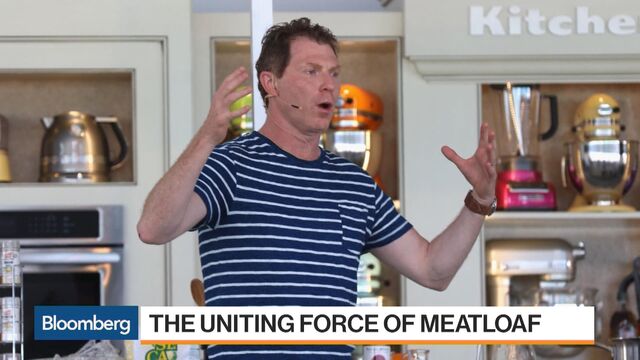 In these odd times, it's hard to imagine a topic of conversation on Capitol Hill that could bring people together.
But here's one: meatloaf.
Paul Ryan, Chuck Schumer, Nancy Pelosi, and Maine Senator Susan Collins all have a deep love for the classic American dish, as captured in a new book, A Meatloaf in Every Oven, by New York Times's Op-Ed columnist Frank Bruni and Washington reporter Jennifer Steinhauer. Of course, President Trump also has an opinion.
The book was born of the authors' affection for the humble dish. For Bruni, the Times' chief restaurant critic from 2004 to 2009, meatloaf was the one thing he felt confident cooking at home (he calls himself "shy with a spatula"). Steinhauer, who spends her days chronicling congress, found that making meatloaf was an easy fix as a time-pressed mother, as well as a meal that she and her daughters bonded over.

The book includes 50 recipes, running the gamut from classics to internationally flavored loaves to offerings from star chefs such as Bobby Flay, Mario Batali, and Alex Guarnaschelli.
To Bruni, who didn't give all these chefs favorable reviews, it was important to have them offer their dishes.
"In this time of hideous partisanship, in the government and on Twitter, it's meaningful to have respectful relationships with someone who could be your sworn enemy," he says. 
The most newsworthy recipes of the bunch are included in the Political Postscript section. It was a late addition, the result of a conversation between Steinhauer and Maine Republican Senator Susan Collins, whose mother's recipe is included in the book.
"Susan is a huge home cook," says Steinhauer. "Other reporters see us whispering, and they think she's giving me confidential information. Actually, we're talking about Blue Apron," she laughs. "We talk serious policy questions, yes. But we'll also discuss how to get the blueberries not to sink in [muffin] batter." 
Other participating politicians include Chuck Schumer, with an Omnibus Loaf, and Paul Ryan's Venison Meatloaf.
"After [Ryan] became speaker, I went to his office to interview him. He said, 'Are you writing a meatloaf cookbook?' His staff had clearly done their Google research," says Steinhauer. "He began to recite his meatloaf recipe. It's made with venison; he's an avid deer hunter. And he grinds his own meat, which is no small thing."
According to the headnote, the only topic that animates the House Speaker more than the earned income tax credit is deer hunting. (He apparently made the decision to run for speaker when he was solo in a deer blind.) The flavorings are from the old school of meatloaf: Lipton's onion soup mix, Italian bread crumbs, and ketchup. Don't skimp on the ketchup. 

Oh Deer Speaker Paul Ryan's Loaf
Serves 6
1 tbsp. olive oil
1 medium onion, finely chopped
1 lb. ground venison or dark turkey meat
½ pound fatty ground beef, preferably not more than 70 percent lean
1 envelope Lipton Recipe Secrets onion soup mix
1 tbsp. Worcestershire sauce
½ cup Italian-style bread crumbs, such as Progresso
1 large egg, lightly beaten
¼ cup ketchup
Preheat the oven to 350°F. Line a baking pan with foil or get out your nonstick loaf pan. Warm the oil in a medium skillet. Add the onion and sauté over low heat until softened, about 10 minutes. Let cool slightly. Combine the meats, onion soup mix, Worcestershire, bread crumbs, and egg in a large bowl and mix gently with your clean hands until combined. Add the cooled onion and knead them in, just until incorporated.
Shape the mixture into a loaf in the prepared baking pan or gently press into the loaf pan. Brush the top with ketchup. Bake until the internal temperature reaches 160°F, about 65 minutes. Let the meatloaf rest for 10 minutes before slicing and serving.

Not a cook? Starting on Feb. 10, New York's Nomad Bar will serve three recipes from the book along with assorted sides for a month for $22 (just not on Sundays when Mamma Guidara's is on offer). The chosen meatloaves are: Leslie Bruni's Sweet Nostalgic Loaf (with North Carolina-style BBQ Sauce); Greek Loaf with Lamb and Feta; and Cheesy Chorizo Loaf.
Before it's here, it's on the Bloomberg Terminal.
LEARN MORE