Fillon Vows to Stay in French Race, Insisting He Can Win
By , , and
Republican presidential candidate offers apology to voters

Candidate says wife was employed as assistant for 15 years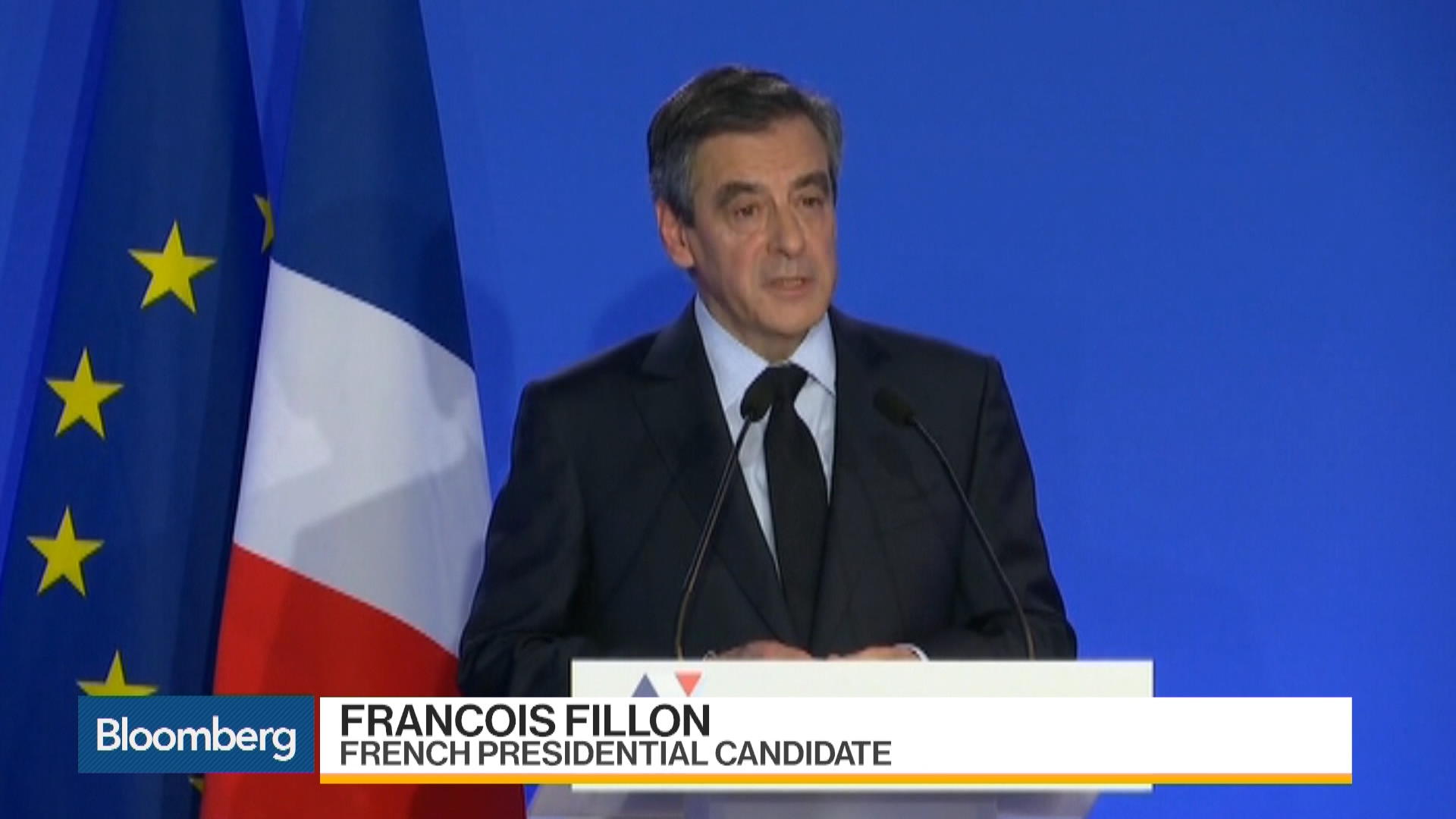 Francois Fillon sought to save his bid for the French presidency in an hour-long press conference in which he set out extensive details of his family's finances and offered an apology to voters as evidence of his probity.
Almost two weeks after the first report that the Republican candidate had employed his wife as a parliamentary assistant, Fillon stated clearly on Monday that she took a salary for that job over the course of 15 years and that his children also worked for him for shorter periods. The former prime minister emphasized that the practice is entirely legal, while adding that he understood the outrage of many voters.

"Where does it leave me morally speaking? I must face up to myself and in reality also to the French people," Fillon said. "What was acceptable yesterday is no longer acceptable today. It was an error. I regret it profoundly and I apologize to the French people."
For an explainer on the Fillon scandal, click here
With less than three months until the first round of voting, the former front runner is trying to halt a slide in the polls and stamp out suggestions that he will be forced to drop out of the race. Fillon, 62, said he would be consulting with his party and hitting the campaign trail to defend his program of economic reform in coming days against the opposition of National Front leader Marine Le Pen and independent Emmanuel Macron.
"He bet everything -- he was clearly repentant and accepted blame: he apologized, which is very rare for a politician," Frederic Dabi, who co-heads opinion poll Paris-based Ifop, said. "He said a new campaign is starting. We will see in the next 48 hours if voters are following him."
Critic Retreats
The extra yield that investors demand to hold the French government's 10-year bonds instead of German bunds fell by 1 basis point to 76 basis points at 10:45 a.m. in Paris after reaching its highest in more than four years on Monday.
The early signs indicated that Fillon's gambit may have some success. Republican lawmaker Georges Fenech was urging the candidate to step aside last week. After Monday's press conference, he offered Fillon his backing.
"From the moment he said he would be candidate to the end that is his responsibility to the whole country," Fenech said in comments broadcast by France Info radio. "We will all be behind this candidacy."
Fillon himself appealed to the primary voters again on Monday as he challenged his party critics to test their authority against his. Fillon completed a surprise victory to claim the nomination defeating party grandee Alain Juppe in the Republicans' run-off with 67 percent of the vote and about 4.5 million ballots.
"I am not the candidate of a party -- no organization has the legitimacy to put the primary vote into question," he said. "A majority of French voters on the right want me to take forward my plans for a rupture with the past into the fight against Le Pen. I am candidate for the presidential election and I'm a candidate to win it."
Primary Pledge
"It was quite risky," said Pierre Lefebure, a teacher in political communication at Paris 13 university. "If it works, he's back in the saddle. If it fails, he'll keep crumbling."
Having been the favorite in mid-January, Fillon has now slipped into third place. For the first round, he has the support of 18.5 percent of voters, compared with 25.5 percent for Le Pen and 20.5 percent for Macron, according to Ifop's daily rolling poll on Monday. Like all other pollsters, Ifop sees Le Pen losing in the second round.
Questions about his personal ethics have proved especially damaging for Fillon because he won his shock victory in November's primary by insisting that a candidate for president must have unquestioned integrity. As about a third of his support evaporated in opinion polls, he faced calls from some within his party to step aside and let another candidate pick up the baton.
The French finance prosecutor said on Monday that the Fillon investigation continues, adding that "it would be hazardous to presuppose the outcome."
Socialist nominee Benoit Hamon lashed out against Fillon on Monday, according to AFP.
"He is choosing the worst strategy by persisting in denial, it's a bad mistake," he said. "It shows Fillon doesn't understand there's a form of impunity that appears abnormal to the French people."
— With assistance by Marie Mawad
Before it's here, it's on the Bloomberg Terminal.
LEARN MORE