French Bonds Show Le Pen Risk, Not Expectation: Reality Check
by and
Nation's 10-year yields remain low by historical standards

BlueBay sees yield premium matches 20% chance of Le Pen win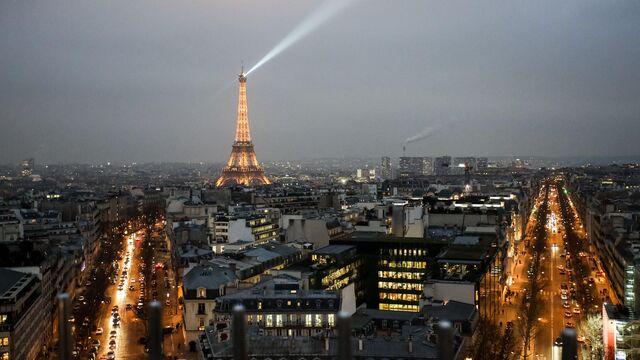 The French bond market may be wary of a Marine Le Pen victory, but it is far from fully priced in.
The yield on French 10-year bonds has almost doubled in 2017 amid concerns the anti-euro candidate could spring another political shock in this years elections. The underperformance, which started in earnest after the election of Donald Trump, has accelerated following revelations about Republican Francois Fillon's employment of his wife. Still, even as markets price in a larger political premium, French bond investors are showing few signs of a full panic.
At 1.09 percent, French 10-year yields remain low by historical standards, and, while the yield spread over Germany is near the highest since 2014, it is just over one-third of the debt-crisis peak. Declines have also been accentuated by a wider drop in European fixed-income securities, and by a busy start to the year for French bond issuance, which Commerzbank AG dubbed its "most aggressive primary start on record."

With bond yields across Europe still relatively close to record lows thanks to European Central Bank buying, sharp moves such as the ones seen in French bonds this year stand out more. Even amid speculation that stimulus may be near its endgame, it still provides some insulation, meaning that selloffs are far more muted than those that characterized the debt crisis earlier this century, when so-called bond vigilantes were at their most active in markets.
The French electoral system may also come to investors' aid, meaning the chances of a Le Pen victory, and thus the potential for re-denomination should France drop out of the euro region, are still seen as relatively low.
"The Le Pen risk is something which is non-negligible but still very much a tail event," said Mark Dowding, a partner and co-head of investment-grade debt at BlueBay Asset Management LLP in London. "What you're doing here is rationally pricing political risk because if it's a 20 percent chance on a 200 basis-point widening, that political risk premium should be worth about 40 basis points."
Rankings Remain
The yield difference between French 10-year bonds and their German equivalents is about 64 basis points, and the gap with Spain's is the smallest since 2010. However, other measures show fewer signs of stress. The yield is still just nine basis points above its Belgian counterpart, well within the range in the past 12 months, while the spread under Italy is bigger than the average over the same period.
"The ranking among euro-area sovereigns has broadly stayed in place," said Luca Cazzulani, a rates strategist at UniCredit in Milan. "But when you match the risks and the yield pickup you can get on different countries you get differences. The widening of the French yield spread is driven by concern about what may happen this spring, around the elections."
While Le Pen leads in polling for the first round on April 23, she's projected to lose heavily in the run off. Jean-Marie Le Pen, her father and predecessor as leader of the National Front, secured less than 18 percent of votes in a 2002 run-off against Jacques Chirac as traditional parties called on citizens to back the mainstream candidate.
The controversy surrounding Fillon's candidacy, which accelerated declines this year, may even lower the chances of a Le Pen victory, polls show. Independent candidate Emmanuel Macron would secure higher support against his euro-skeptic rival than Fillon in a run-off, the latest surveys indicate.

Before it's here, it's on the Bloomberg Terminal.
LEARN MORE