Draghi Takes QE Case to Brussels as Politics Keeps Risk High
By
ECB president will testify at European Parliament on Monday

Critics seek clarity on stimulus end after inflation jump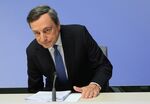 Mario Draghi will face European lawmakers on Monday knowing he can't please them all.
The European Central Bank president can cite accelerating inflation, declining unemployment and 15 quarters of expansion as evidence that his stimulus policies are working. To face down calls to withdraw that support and let the euro-area economy stand on its own, he'll probably also have to point to weak underlying price growth and a turbulent political environment.
Surging inflation is stoking frustration in some countries -- notably Germany -- while the slow exit from the financial crisis is fueling a backlash against deeper European integration. Although that's a concern for Draghi, he also has to acknowledge that there are plenty of ways the recovery could falter. U.S. President Donald Trump is threatening to tear up trade agreements, and European elections this year have seen the rise of extremist parties.
Draghi's testimony at the European Parliament's Economic and Monetary Affairs Committee starts at 3 p.m. local time with a statement, following which he'll answer questions from legislators. He may also be asked about the region's bank woes and on the pledges from populist parties to leave the euro if they seize power.
To watch Draghi's testimony at 3 p.m. in Brussels, click here
After recently flirting with deflation, the ECB now has a euro-area inflation rate of 1.8 percent that could rise still higher. Even though the central bank's goal is just under 2 percent, it intends to keep its bond-buying program running until at least the end of the year. It expects to keep interest rates at record-low levels for even longer.
The outlook for the region's economy isn't gloomy. Business confidence in the first quarter rose to the highest level in one and a half years, a report by the Ifo institute showed on Monday. Most of the experts polled expect higher long-term interest rates over the next 6 months.
Still, Draghi said in a press conference on Jan. 19 that too much inflation would be a "high-class problem" and that tapering bond buying wasn't even discussed by the Governing Council. He gave four criteria that must be met before winding down stimulus.
On the first -- that inflation must be near its goal "in the medium term" -- the latest ECB projections show progress.

The next requirement -- that the inflation pickup must be durable -- is more difficult to judge. Core inflation and other gauges that try to discern underlying dynamics from energy costs show that price pressures remain essentially weak.

That strong inflation is still a long way off was confirmed by data on German salaries on Monday. Real wages rose 1.8 percent in 2016, the slowest pace in three years, despite unemployment falling to the lowest level on record.
Draghi also said price growth must remain stable even if extraordinary stimulus is withdrawn. The ECB's own calculations show that the effect of monetary support will be significant for a while to come.

Draghi noted that the ECB is focused on inflation for the euro area as a whole, not for individual countries. German complaints that its stronger economy needs tighter policy won't sway policy makers if the rest of the currency bloc is too far behind. The ECB's forecasts suggest that the divergences seen since the region's debt crisis are narrowing, but there's still a way to go.

That progress could fade away in the face of geopolitical risks, and one of the highest profile concerns right now is the direction of U.S. policy. There's also a risk that the latest inflation surge is just a blip.
It's all likely to keep Draghi -- and investors -- cautious. The euro was down 0.4 percent at $1.0737 at 11:18 a.m. Frankfurt time. The spread between French and German bond yields widened and gold rose.
"We do not react to short-term fluctuations, particularly those caused by energy and other commodity prices," Executive Board member Benoit Coeure said in a speech in Paris on Thursday. "The core of our analysis will be 'is this higher inflation sustainable?' The conclusion today is: no."
Before it's here, it's on the Bloomberg Terminal.
LEARN MORE