Reflation Trades Stall as Bonds Rise, Stocks Mixed: Markets Wrap
By and
U.S. equities little changed after touching intraday records

Hoped-for details on fiscal policies remain undelivered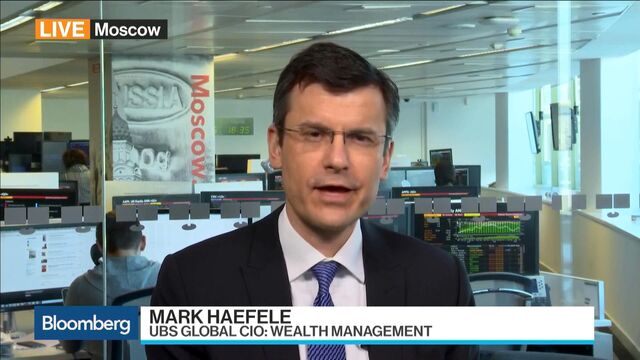 The trades sparked by the Trump administration's promises to implement pro-growth strategies continued to churn in place, with major U.S. assets little changed on the day after reversing direction in afternoon trading.
The Dow Jones Industrial Average surged to an all-time high on speculation the White House would deliver details on spending and tax plans before the rally faded as oil majors slumped. Treasuries reversed losses, sending the 10-year yield below 2.40 percent. Central bank commentary set the tone on currency markets, with a Federal Reserve official's signal that rates may rise in March boosting the dollar before Bank of England figure's remark that inflation could exceed expectations sent the pound surging. Crude tumbled.
The midday reversals underscored the lack of direction markets have shown in recent weeks as investors look for more details from the the Trump administration on promised spending increases and tax cuts at the same time that data continue to paint a mixed picture on the pace of inflation in developed markets. The BOE's Kristin Forbes's warning on price acceleration came after the Fed's Patrick Harker suggested higher U.S. rates may be warranted next month.
What's coming up in the markets:
Trump's administration returns to court today to defend his executive order banning some Muslim travelers from the U.S., arguing the president has broad authority to head off threats to the country.
In the U.K., a report due Friday may show industrial activity moderated.
Scotland is taking its protest against Brexit to the next level with lawmakers in Edinburgh voting on whether to trigger the mechanism to leave the European Union. But the vote on Tuesday can't stop Britain or even Scotland leaving the EU.
Stocks
The S&P 500 rose less than one point to 2,293.03 at 4 p.m. in New York. The Dow rose as much as 0.5 percent to 20,155.35 for an intraday high before paring the advance to 0.2 percent. Boeing Co. led gains, while oil majors paced losses.
The Stoxx Europe 600 Index climbed 0.3 percent. Banking and oil and gas shares retreated for a second day after BNP Paribas and BP posted profits that missed estimates.
The MSCI Emerging Market Index fell 0.3 percent after closing at the highest level since September.
Currencies
The Bloomberg Dollar Spot Index rose 0.4 percent for a second day of gains.
The yen weakened back above 112 per dollar after falling below that level on Monday.
The euro dropped 0.6 percent to $1.0687.
The British pound climbed 0.3 percent, wiping out a loss that reached 1 percent to trade at $125.11.
Bonds
Yields on 10-year Treasuries fell one basis point to 2.39 percent after the biggest drop in more than two weeks in the previous session. The rate swung from 2.37 to 2.44 during the session.
China's foreign-currency reserves edged just below $3 trillion in January, falling to the lowest since early 2011 after the yuan capped its steepest annual decline in two decades.
Greece's two-year note yields climbed to 9.52 percent as a quarrel between the nation's creditors over its fiscal targets boosted concern it is running out of time to complete yet another review of its bailout program.
Commodities
Oil dropped 1.6 percent to settle at $52.17 a barrel after falling 1.5 percent on Monday before U.S. government data forecast to show U.S. crude stockpiles expanded for a fifth week. Tuesday's close was the lowest since Jan. 19.
Statoil ASA said it would make another $1 billion of cost cuts this year after posting a surprise loss, while BP Plc said it still needs to borrow money to cover spending and dividends at current oil prices.3
Gold rose 0.3 percent to settle at $1,236.10 an ounce in New York, the highest close since Nov. 10.
— With assistance by Grant Smith, and Stephen Kirkland
Before it's here, it's on the Bloomberg Terminal.
LEARN MORE