Korea See China's Ire Over Missile Shield in Export Hurdles
By
China is angry at decision to deploy U.S. missile shield

Security and economic issues collide for South Korea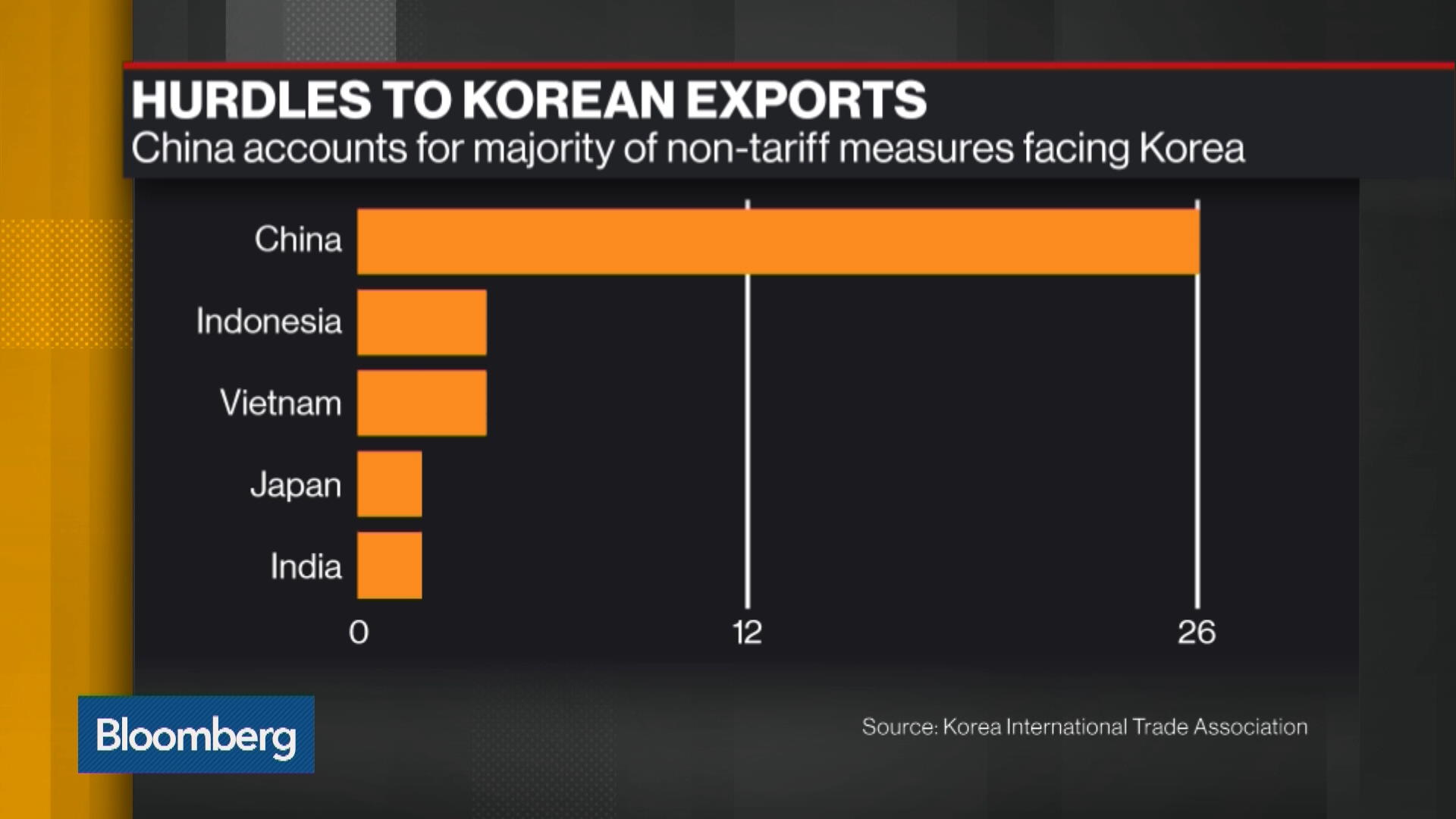 South Korea is increasingly concerned that China may be stepping up economic retaliation over its decision to deploy a U.S. missile shield, and it sees worrying signs in everything from blocked imports of high-tech bidets to the cancellation of music concerts.
Korea's Finance Minister Yoo Il-ho has said he thinks China may be taking unfair and indirect action in some cases. China opposes the deployment, with a foreign ministry spokesman last month saying it hoped South Korea will "take China's concern seriously and create better conditions for the normal friendly exchanges between our people."
Higher trade barriers hurt Korea's economy, which is relying on exports for growth amid domestic political turmoil that's crimping domestic consumption. There is little prospect for improvement in the situation, given China's clear opposition to the high-altitude missile defense system, known as Thaad, and South Korea's need for strong defense cooperation with the U.S. to counter the threat from North Korea.
"China's government will refrain from saying any of their actions are retaliation, but I see several incidents that can be named as such," said Shin Jong-ho, a director at the state-funded Korea Institute for National Unification in Seoul. "I expect these tensions to continue across a wider range of areas."
Shin cited as examples the cancellation of concerts in Beijing, Shanghai and Guangzhou that were planned for Korean soprano Jo Sumi in February. Jo said on her Twitter account that these February events were canceled for no clear reason. The Chinese foreign ministry said it was unaware of the issue.
Growing Concern From Korean Officials
| Date | Who | Comment |
| --- | --- | --- |
| 13 July 2016 | Finance Minister Yoo Il-ho | Don't expect massive economic retaliation from China over Thaad.  |
| 21 July 2016 | Trade Minister Joo Hyung-hwan | Thaad shouldn't affect China-South Korea relations. The government will continue monitoring the matter. |
| 20 Dec. 2016 | Finance Minister  | China may impose non-tariff barriers on South Korean exports in response to Thaad. |
| 5 Jan. 2017 | Finance Minister  | China seems to be taking some indirect actions against South Korea. |
| 16 Jan. 2017 | Finance Minister  | It is unfair that China stopped subsidies for cars with Korean batteries. |
| 17 Jan. 2017 | Vice Trade Minister Woo Tae-hee | We will continue to raise issues with China in area where it is necessary. |
Although China takes a quarter of Korea's exports, the backlash is yet to appear in the data. The number of Chinese tourists visiting Korea reached a record 8 million in 2016, and exports rebounded in the past three months. 
The Korean government raised its concerns with China on non-tariff trade barriers at a joint committee on the free-trade agreement last month, the trade ministry said. The issues included China extending anti-dumping duties on optical fiber, a rise in disapproval of cosmetics imports, ending subsidies to electric cars with Korean batteries, and restrictions on flights and tourism to Korea, according to the statement.
Still, the rejection of some cosmetics and toilet seats can partly be attributed to Korean companies not abiding by China's strengthened rules, according to Kang Jun-young, a professor specializing in China at Hankuk University of Foreign Studies in Seoul. Even so, if diplomatic relations had been better, the Chinese authorities may not have been so strict, he said. 
China opposes the deployment of the system, claiming it will "seriously damage the regional strategic balance and the strategic security interests of China and other countries in the region," according to a recent defense white paper.

Kang at Hankuk University said China could be exploiting political turmoil in South Korea to increase anti-Thaad sentiment and may hope the next president blocks its deployment.
Should the constitutional court approve Park Geun-hye's impeachment as president, there will be an election sometime before the end of August. Former opposition leader Moon Jae-in is leading in polls, and has said that decisions on Thaad should be handed over to the next administration. 
U.S. Defense Secretary James Mattis and his Korean counterpart agreed to deploy the system this year as planned on Friday, according to a text message from the defense ministry. A meeting held the same day by Lotte Group, which owns the site the Korean government chose as the location for Thaad, failed to approve the land transfer to the government, Yonhap reported. 
South Korea's Maeil Business Newspaper reported that Lotte had decided to close three of its stores in the vicinity of Beijing amid the furor in China over the missile shield.
One indicator of how serious the issue is will be whether Korean companies are mentioned on China's name and shame night, when state broadcaster CCTV airs its annual look at consumer complaints and dodgy products.
"An opportunity to gauge China's intentions could be seeing whether Korean companies are targeted on the March 15 consumer rights day, such as being called on for a product recall," said Jeong Hyung-gon, a senior research fellow for state-funded Korea Institute for International Economic Policy in Sejong.
Jeong said China could be using Thaad as a chance to boost its own industry.
"It's important that Korean companies are careful to abide by rules when doing business in China as the atmosphere has changed," he said.