French Presidency Candidates Go on Offensive as Fillon Stumbles
By
Le Pen, Macron and Hamon hold rival rallies across country

Polls show Fillon's voter support has weakened in past weeks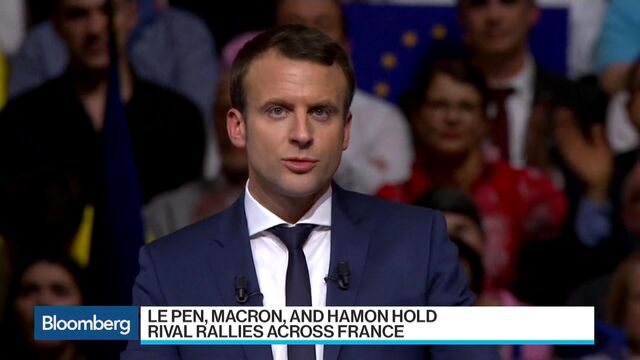 With former front-runner Francois Fillon's French presidential bid in turmoil, rival candidates stepped in to seize the initiative in the most unpredictable election campaign in decades.
The pollsters' new favorite, independent Emmanuel Macron, is due to unveil more details of his platform for the presidency at a rally in Paris on Monday evening after hosting a sell-out event in Lyon on Saturday. His main challenger, the National Front's Marine Le Pen, was also in Lyon at the weekend, where she unveiled a 144-point program program advocating an exit from the euro zone, a referendum on European Union membership and immigration limits.
As Fillon broke his weekend silence and called a press conference for later on Monday, Benoit Hamon, who was officially sworn in as the ruling Socialist Party's candidate in Paris, took to the airwaves to build on his recent surge in the polls.
"The solution to unemployment is not the 'Uberization' of work," Hamon said on RTL Radio, in a swipe at Macron. "Confronting the challenges of our country involves having a clear vision of our future, not posing as a man sent by providence."

Hamon's unexpected candidacy and Fillon's difficulties have upended a campaign that is shaping up to be a contest between two radically different visions of Europe espoused by anti-establishment candidates from opposite ends of the political spectrum. A poll released Saturday by BVA showed Le Pen leading Macron for the April 23 first round vote, with Macron going on to beat Le Pen in the May 7 runoff.
'My Enemy'
Le Pen's rally in Lyon had elements of U.S. President Donald Trump's inauguration speech, as she painted a picture of France with its borders undefended and an economy crippled by the euro. "Globalization is my enemy," Le Pen said Sunday, citing "global finance" and radical Islam as twin culprits. "They will lead to the disappearance of this France as we remember it and as we love it. One advances under the guise of liberal economics, the other under the guise of religious liberty."
The Republicans are meanwhile still divided on whether Fillon should be replaced following reports that his wife and two of his children allegedly earned more than 900,000 euros ($967,000) in public funds as parliamentary aides without actually doing a commensurate amount of work. Fillon will hold a press conference at 4 p.m. at his campaign headquarters in Paris, Agence France-Presse reported, citing people close to the Republican candidate.
"It's clear we can't continue with Francois Fillon," Bruno Gilles, the head of the Republicans party in the Marseille region, said on BFM TV. "We cannot win with Francois Fillon and someone has to make him understand he has to stop." Eric Woerth, a former budget minister, spoke in favor of Fillon.
Alain Juppe, the Bordeaux mayor whom Fillon defeated in his party's primary, reiterated on Twitter Monday morning that he won't replace the candidate. "About these unfounded rumors, a confirmation: With me, No means No. Listen to FF, our candidate," he posted.
Fillon, who had been favorite to win the election, released a video Friday saying that he has no intention of stepping down and will fight to clear his name. He didn't hold a rally this weekend, though Paris Match reported that he is planning a television appearance early in the week.
Latest Polling
The BVA poll put Le Pen on 25 percent and Macron on 21-22 percent in first-round voting intentions, with Fillon scoring 18-20 percent. In the run-off, Macron would defeat Le Pen by 66 percent to 34 percent, the poll found.
Another poll released Sunday gave some hope to Fillon, with the Ifop survey in Le Journal du Dimanche showing 64% of supporters in his party want him to stay on. "He retains a majority support on the right," Ifop Director Frederic Dabi said in a commentary. "His strategy seems to be to mobilize his supporters along the line of 'you are not going to steal our victory'."
Marion Marechal-Le Pen, Marine's niece, made an open appeal to Fillon voters at the Lyon rally, telling them to look for "Plan-M," a play on the much discussed Plan-B for the Republicans to find another candidate. "You have in front of you a candidate who meets all your expectations, be it on taxes, migration, society, and sovereignty."
Macron, who spoke in a sports arena, touched on everything from simplifying the country's labor code to lengthening library opening hours to giving youth more access to culture. He also made several references to U.S. politics without mentioning Trump by name. "There will be no wall in my program," Macron said, welcoming entrepreneurs to France from around the world. His rally attracted 8,000 people with many stuck outside the arena.