Deutsche Bank Buys Ads to Apologize for 'Serious Errors'
By
CEO Cryan signs ad, expressing 'our deep regret' for conduct

Ad in German newspapers blamed 'misconduct of a few' workers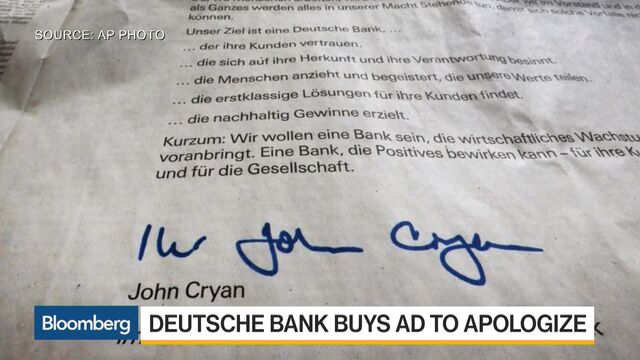 Deutsche Bank AG bought full-page ads in all major German newspapers over the weekend to apologize for "serious errors" after misconduct costs helped tip the company into two years of losses.
Legal cases that date back many years cost the Frankfurt-based company "reputation and trust" in addition to about 5 billion euros ($5.4 billion) since John Cryan took over as chief executive officer in July 2015, the CEO said in the ad, blaming the "misconduct of a few" employees.
Cryan, who replaced Anshu Jain as co-CEO in 2015 and became sole CEO last year, is seeking to rebuild trust in the lender. He has settled some of the bank's largest legal matters over the past two months and is adding staff to prevent financial crime. Concern over the lender's financial strength led some wealthy and institutional clients to take their business elsewhere in the fourth quarter.
While Cryan hasn't shied away from criticism of the bank's controls and information technology, such paid-for apologies are rare. Volkswagen AG, the German carmaker that cheated on emissions tests, took out ads in 2015 to apologize for its behavior. In the U.S., Wells Fargo & Co. ran ads in newspapers and on TV, after authorities said branch workers may have opened more than 2 million unauthorized deposit accounts and credit cards over half a decade.

Cryan, who signed on behalf of the executive board, expressed "deep regret" that "the conduct of the bank didn't follow our standards" in relation to the U.S. mortgage business in 2005 to 2007 and was "unacceptable." That was also the case in other matters, he wrote.
Last month, Deutsche Bank finalized a settlement with the U.S. Justice Department over its handling of mortgage-backed securities before 2008. The bank agreed to pay a $3.1 billion civil penalty and provide $4.1 billion in relief to homeowners. Last week, it was fined $629 million by U.K. and U.S. authorities for compliance failures that resulted in the bank helping wealthy Russians move about $10 billion out of the country.
A criminal investigation of the trades by the Justice Department is ongoing. The bank also hasn't resolved investigations into whether it manipulated foreign-currency rates and precious metals prices.
Deutsche Bank's leadership will "do everything in our power to prevent these events from re-occurring," Cryan said in the ad.
Before it's here, it's on the Bloomberg Terminal.
LEARN MORE